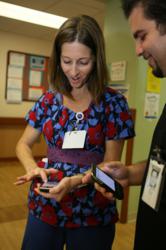 SARASOTA, Fla. (PRWEB) November 07, 2012
Voalte, a leader in clinical communications technology, released its latest white paper examining emergency department throughput processes and how the use of smartphones by nurses and clinicians can improve communications and workflow.
The report found that many hospitals are currently losing business when patients forego treatment because of long wait times in the emergency department. The report reviewed how two hospitals in particular, Frisbie Memorial in New England and Sarasota Memorial in Florida, have combated this by implementing smartphones for clinical communications in their emergency departments.
The case studies showed that smartphones have the ability to improve internal communications among clinical staff, increase work efficiency and reduce wait times in the emergency department. By re-evaluating the emergency department workflow process and incorporating smartphones, Sarasota Memorial cut back the intake process by 101 steps leading to a 33-percent reduction in process waste and a one-hour and 13-minute reduction of patient stay time.
Overall the report found that through improved communications in the emergency department, hospitals could decrease response time, advance patient safety, reduce alarm fatigue among staff and improve patient satisfaction.
To download the full report, please visit http://www.voalte.com/WP8-Improving-ED-Throughput-Process.aspx.
About Voalte
Voalte is the only company to provide a fully integrated and dependable clinical communications system that health care professionals want, enjoy and effectively use. Voalte products are designed to be intuitive, high value, mission critical applications running on the latest generation of touch-based smartphones. For more information, visit http://www.Voalte.com or call 941.312.2830.