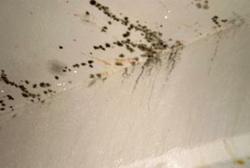 Flood water from Sandy will drive the growth of mold and bacteria in water damaged buildings
Baltimore, MD (PRWEB) November 07, 2012
Hurricane Sandy, with its unprecedented storm surge and consequent flooding, has created a perfect storm of health hazards that could linger on, long after the waters recede. In addition to the obvious dangers of sewage, gasoline, and other industrial contaminates spread throughout the affected areas, water damaged buildings will continue to pose a health threat, long after the streets are dry and power is restored.
According to Dr. Ritchie Shoemaker, leading biotoxin illness expert specializing in diagnosis and treatment of mold-related sickness, "Those with flooded homes, schools, and businesses have just 48 hours to dry out before the extra moisture lets harmful microbes, including mold, start to grow."
Bacteria, fungi, and mold thrive in damp, humid environments, and can be found during any season. Approximately 25% of people have a genetic make-up that leaves them susceptible to the toxins produced by these microbes; inhaling these inflammagens is what makes people sick. Symptoms can range from fatigue, cough, or weakness, to shortness of breath, abdominal pain, or difficulty concentrating. Left untreated, muscle, nerve, and other systems can be injured by uncontrolled inflammation.
In a recent blog post, Dr. Shoemaker points to post-Katrina New Orleans, where an epidemic of biotoxin related illness bloomed in the months after the event. The difference with Sandy, he explains, is that "…unlike Katrina, which exposed hundreds of thousands of people to the interior of water damaged buildings, Sandy continues to expose millions."
Ritchie Shoemaker, M.D. is an internationally recognized leader in education, patient care, and research in the field of biotoxin related illness. He has authored eight books, including the widely read "Surviving Mold". He has appeared on Good Morning America, the BBC, the Australian Broadcasting System, and Discovery Health Channel, and has spoken to the House of Representatives and the US Senate.