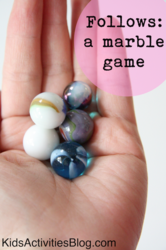 Play marbles is a nostalgic fall game for all ages.
Dallas, Texas (PRWEB) November 13, 2012
Play marbles is the latest nostalgic November game that has Moms blog in numbers about their favorite fall activities on Kids Activities Blog. Playing marbles is both fun and educational. It levels the playing field between the adults and kids. The beauty of such a playground game is that kids can learn from each other not from adults by making up their own variations of the game as they play along.
Kids Activities Blog currently features one favorite version of this nostalgic November game called Follows. Two rules have to be agreed upon before playing Follows which are simply Keeps or Friendlies and Clears or No Clears. For the complete set of instructions for this and other marble game variations check out Kids Activities Blog.
Additional fun and educational fall activities ideas are making Thanksgiving craft, stirring up the kitchen with some yummy November recipes, creating stunning onion dye art and making fun fall art using the many Fall related templates that are currently featured on Kids Activities Blog. Come check it all out and get inspired this fall to find fun and educational November activity ideas for the little ones.
About Kids Activities Blog
Kids Activities Blog is a website created by two moms (who collectively have 9 children), Rachel Miller and Holly Homer from June Cleaver Nirvana. It is their daily goal to inspire parents and teachers to play with kids. This interactive website publishes simple things to do with kids twice a day. Kids Activities Blog is a great tool for moms and teachers to find kid-friendly activities that create memories and sneak learning into the fun.