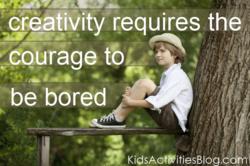 Creativity requires the courage to be bored.
Dallas, Texas (PRWEB) November 17, 2012
Blogs about Kids recommends to schedule some serious downtime this fall.
November time is the perfect time to get a couple of weeks of rest before the onslaught of holiday fervor. Intentional resting time is essential for kids as well. To purposefully rest will stimulate creativity in children of all ages. Being intentional about not having extra events or activities scheduled will enable the child to purposefully come up with new things to occupy themselves.
Mom blogs are about spending fun quality time with the children without and prearranged events and materials or ingredients. The simple premise of the downtime idea is that creativity requires the courage to be bored. Boredom in turn stimulates the imagination. Kids Activities Blog features ideas from Moms who have purposefully pulled the plug on scheduled events and have created a time and place of wonder and imagination for their kids. Check out the ideas to disconnect from the world with your kids on Kids Activities Blog.
One featured Mom blog is about simply being Mom by featuring a clever idea on how to gently encourage keeping a daily journal created by her first grader. Fun and easy ideas on how to have memorable time with children and sneaking in some learning is what this Moms blog is all about.
Come check out this Mom blog and all the other great Mom blogs listed on Kids Activities Blog to find rest this season for the kids.
About Kids Activities Blog
Kids Activities Blog is a website created by two moms (who collectively have 9 children), Rachel Miller and Holly Homer from June Cleaver Nirvana. It is their daily goal to inspire parents and teachers to play with kids. This interactive website publishes simple things to do with kids twice a day. Kids Activities Blog is a great tool for moms and teachers to find kid-friendly activities that create memories and sneak learning into the fun.