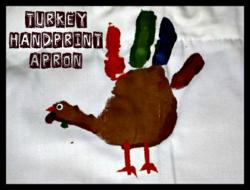 The handprint turkey can be put on T-Shirts, plates or any other object the kids like to turn into an art piece. The handprint turkey makes a memorable keepsake for years to come!
Dallas, Texas (PRWEB) November 18, 2012
Creative Thanksgiving craft is currently featured on Kids Activities Blog. One of the top featured Thanksgiving craft ideas is the handprint Turkey. The handprint idea makes a cute keepsake for family and friends during the Thanksgiving holidays and will be treasured for years to come.
The cute handprint Turkey idea can be used to make several Thanksgiving art pieces such as a plaque, a plate or a Thanksgiving T-Shirt. Kids of all ages can participate in making this memorable keepsake. Supplies needed are Acrylic paint, sponge paint brushes, paper plates for the paint, sharpie markers, and then either a blank plate, canvas, T-Shirt or paper or any other object the kids would like to turn into their art piece. Just follow the template provided on Kids Activities Blog to make the handprint Turkey.
Other memorable November activities currently featured on Kids Activities Blog include onion skin dye activities, science experiments for kids with baking soda, making a Thankful heart tree and many more. Check out the laundry list of great Mom approved and Kid tested activities featured on Kids Activities Blog this fall.
About Kids Activities Blog
Kids Activities Blog is a website created by two moms (who collectively have 9 children), Rachel Miller and Holly Homer from June Cleaver Nirvana. It is their daily goal to inspire parents and teachers to play with kids. This interactive website publishes simple things to do with kids twice a day. Kids Activities Blog is a great tool for moms and teachers to find kid-friendly activities that create memories and sneak learning into the fun.