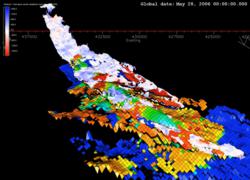 We created the Pem2Seis tool as a direct result of customer demand and the initial feedback has been extremely positive
Las Vegas, NV (PRWEB) November 05, 2012
Dynamic Graphics is offering demonstrations of significant new features of the just released CoViz 4D 6.0 at the annual SEG conference in Las Vegas, NV. Attendees at the conference will have an opportunity to see the CoViz 4D Petroelastic Model to 4D Synthetic Seismic generation (Pem2Seis) tool, and other recent developments in rock physics. Other new features of the popular software include the Integrated Well Designer, viewer-integrated Time-to-Depth conversions, and 3D stereoscopic display.
"We are very excited about the advances in CoViz 4D. We created the Pem2Seis tool as a direct result of customer demand and the initial feedback has been extremely positive. Some clients have reported that Pem2Seis is up to ten times faster to set-up and use compared to previous synthetic creation workflows." said Art Paradis, President of Dynamic Graphics, Inc.
Demonstrations of the new features of CoViz 4D will be available at the Dynamic Graphics booth (#924) at the SEG conference in Las Vegas, NV 4-7 November 2012.
About CoViz 4D
CoViz 4D leads the industry in providing dynamic quantitative analysis for reservoir management. Understanding the changing response of a reservoir over time is critical for optimizing production and development decisions. CoViz 4D makes it possible for users to simultaneously view and interrogate multi-disciplinary datasets from throughout the asset development team—regardless of the original data source. Understanding through data fusion—powerful in 3D—increases significantly when used in 4D: the unique temporal functionality in CoViz 4D allows users to visualize how development decisions affect their reservoir. For more information about CoViz 4D, visit http://www.dgi.com/coviz/cvmain.html
About DYNAMIC GRAPHICS, INC.
Dynamic Graphics, Inc. (DGI) partners with clients to solve spatial analysis problems in the petroleum, environmental, and earth-related sciences. Over the past four decades, DGI has been the premier provider of geospatial solutions with our innovative, easy-to-use software and outstanding support services. DGI offers three software packages: CoViz 4D, WellArchitect, and EarthVision.
For more information about Dynamic Graphics, Inc., visit http://www.dgi.com/