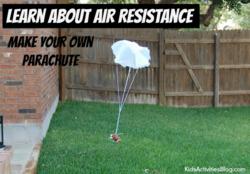 Let the kids explore the amazing world of science with Mom approved and Kid tested cool science experiments this fall.
Dallas, Texas (PRWEB) November 19, 2012
How to make a parachute is the latest buzz on the Science Spot at Kids Activities Blog this fall. One of the best resistance experiments ever is how to make a parachute. Kids of all ages will love to create the parachute and turn it into a real life science experiment.
To make the parachute is easy and can be done with things found in the house. Kids Activities Blog loves activities for kids that does not require one to go to the store for supplies. In order to build the parachute, get a plastic grocery bag, a dinner plate, a sharpie, a yarn or string, a hole punch, a pair of scissors and an object that would act as a "parachuter." Assemble the supplies according to the template provided on Kids Activities Blog.
Other Science Spot blogs currently featured on Kids Activities Blog are making a human heart, baking soda and vinegar experiments, and a variety of chemical reaction experiments using milk, salt and soap.
Experiments for kids is the latest buzz on Kids Activities Blog in November. Be inspired to create the latest cool science experiments and to teach the kids about the wonderful world of science this fall.
About Kids Activities Blog
Kids Activities Blog is a website created by two moms (who collectively have 9 children), Rachel Miller and Holly Homer from June Cleaver Nirvana. It is their daily goal to inspire parents and teachers to play with kids. This interactive website publishes simple things to do with kids twice a day. Kids Activities Blog is a great tool for moms and teachers to find kid-friendly activities that create memories and sneak learning into the fun.