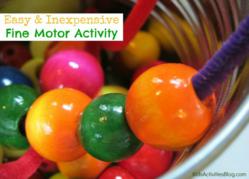 Scooping marbles and stringing beads teaches fine motor skills the inexpensive way!
Dallas, Texas (PRWEB) November 20, 2012
Fine motor skill activity ideas that support early learning in preschoolers is the latest buzz on Kids Activities Blog this fall. Among the featured early learning activities are putting beads on pipecleaners. This inexpensive and simple activity can be played according to the childs age. For younger ones, who are less than three years old, basic color identification and counting concepts such as few or many can be introduced. For older kids, three to six years old, math concepts such as greater than or less than and basic patterns can be introduced.
Kids Activities Blog loves ideas that are simple, fun to do and sneak in math learning at the same time.
Other educational toddler activity ideas currently featured are scooping marbles. Supplies needed are teaspoon or small measuring spoon, marbles, small shallow bowl and a large tray. Let the toddler have a blast by scooping the marbles from one container to the other. This simple and easy activity sharpens their fine motor skills during fun play time.
These and other educational fine motor skill activity ideas are currently featured on Kids Activities Blog which have Moms blogging in numbers. Come check them out.
About Kids Activities Blog
Kids Activities Blog is a website created by two moms (who collectively have 9 children), Rachel Miller and Holly Homer from June Cleaver Nirvana. It is their daily goal to inspire parents and teachers to play with kids. This interactive website publishes simple things to do with kids twice a day. Kids Activities Blog is a great tool for moms and teachers to find kid-friendly activities that create memories and sneak learning into the fun.