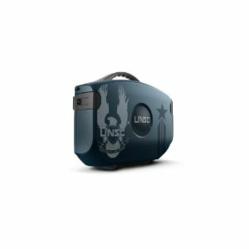 Redmond, WA (PRWEB) November 09, 2012
"We're so pleased to be alongside such great partners as 343 and Madcatz. Our latest Personal Gaming Environment, the Halo UNSC Vanguard, is the best way to make the kickoff of the new Halo Trilogy a personal experience. With its 19inch HD LED screen, premium speakers and dual headphone connectors, and exclusive UNSC styling and accessories, we know Halo Waypoint members are going to love this exclusive giveaway." Said John Smith, VP of Marketing for GAEMS.
Prizes:
Grand Prize GAEMS Halo UNSC Vanguard, MSRP $349.99
Tritton Halo 4 Warhead 7.1 Wireless Headset, MSRP $299.99 Xbox 360 320GB Limited Edition Halo 4 Console, MSRP $399.99
2nd Place GAEMS Halo UNSC Vanguard, MSRP $349.99
Xbox 360 250GB Console, MSRP $249.99
Xbox 360 Halo 4 Limited Edition Wireless Controller, MSRP $59.99
3rd Place Tritton Halo 4 Warhead 7.1 Wireless Headset, MSRP $299.99
To enter: Visit http://blogs.halowaypoint.com/post/2012/11/03/Halo-4-GAEMS-Giveaway.aspx to enter
About GAEMS, Inc.
GAEMS, Inc. is changing the way gamers around the world stay connected to their favorite console, friends, and games. By creating an entirely new category in consumer electronics, GAEMS has taken everything needed for an ultimate gaming experience, and made it personal as well as portable. Established by dedicated gamers, for gamers, GAEMS, Inc. is assembling a team of industry professionals with a passion for gaming. GAEMS will always design and manufacture products that place gamers first. Our mission is to provide the highest quality personal gaming and entertainment experience to gamers around the world. You can find out more about GAEMS at our website at http://gaemspge.com or follow us on Twitter at http://twitter.com/gaems_pge
About Mad Catz
Mad Catz Interactive, Inc. ("Mad Catz") (NYSE MKT: MCZ) is a global provider of innovative interactive entertainment products marketed under its Mad Catz® (gaming), Tritton® (audio), and Saitek® (simulation) brands. Mad Catz also develops flight simulation software through its internal ThunderHawk Studios™; operates flight simulation centers under its Saitek brand; publishes games under its Mad Catz brand; and distributes games and videogame products for third parties. Mad Catz distributes its products through most leading retailers offering interactive entertainment products and has offices in North America, Europe and Asia. For additional information please go to http://www.madcatz.com.
About "Halo"
The "Halo" franchise is an award-winning collection of properties that has grown into a global entertainment phenomenon. Beginning with the original "Halo: Combat Evolved" (2001), the critically acclaimed and record-shattering series of games has since inspired multiple New York Times bestselling novels, comic books, action figures, apparel and more.
Published by Microsoft Studios, the "Halo" franchise of games is exclusive to the Xbox 360 video game and entertainment system and the Xbox LIVE online entertainment network. To date, more than 43 million copies of "Halo" games have been sold worldwide, driving more than 3.3 billion hours of gameplay by people connected to Xbox LIVE.
This product is manufactured under license from Microsoft Corporation. Microsoft, Kinect, Xbox, Xbox LIVE, Xbox 360, and the Xbox logos are trademarks of the Microsoft group of companies.