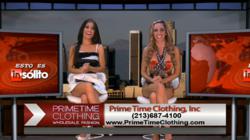 (PRWEB) November 11, 2012
PrimeTime Clothing, the online supplier of premium wholesale fashion apparel and accessories, is featured on a popular Spanish television show named, "Esto es Insolito" that is broadcast nationwide on LATV along with its network affiliates. The hosts of the Spanish language program frequently wear some of PrimeTime Clothing's latest clothing trends. This partnership has allowed for PrimeTime's quality apparel to be viewed by a wider and more diverse audience.
"Esto es Insolito," or "This is Unusual" (translated into English), is a much beloved Spanish language television show that presents some of the most amazing, funny, bizarre and shocking videos and images from around the world. The show, reminiscent of the iconic "America's Funniest Home Videos," features hip young hosts who often adorn the latest fashions and trends available through PrimeTime Clothing. In addition, the hosts recognize PrimeTime Clothing's contributions at the end of many of the shows.
PrimeTime Clothing is a leading online wholesale fashion apparel and accessory supplier. They offer massive discounts and maintain regular low prices on their high quality goods all year around. Their website features the most fashionable in wholesale accessories, wholesale dresses, wholesale plus size clothing, wholesale jewelry, cheap clothes for men, various wholesale women's clothing and more. PrimeTime Clothing is excited to have their quality apparel featured on "Esto es Insolito" and they look forward to continually supplying their customers with the latest in wholesale fashion at the lowest online prices.
About PrimeTime Clothing
PrimeTime Clothing is an online premium wholesale fashion apparel and accessory distributor with low, discounted prices. Based in Los Angeles, they have high quality goods that arrive daily from hundreds of Los Angeles area manufacturers and importers, so their customers have access to the latest fashions. They have over 25 years of experience in the business of discounted wholesale apparel. They offer additional discounts on top of their already low below wholesale prices. For more information, visit http://www.primetimeclothing.com or follow them on Facebook, Twitter, YouTube, Pinterest, Tumblr, Google+, or Instagram.