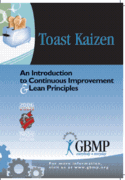 "The Kaizen DVD is very entertaining and easily understood. The DVD made it easier for us to implement a lean program and the results have been outstanding!"
Lake Oswego, OR (PRWEB) November 13, 2012
Creating a lean working environment is what all business owners strive to attain to become competitive in the market. By adopting the Kaizen program along with other lean supplies, available through leanmanufacturingsupplies.com, a business can create "high value" for customers while employing as less work as possible. To get a lean program off the ground is not an easy task for an already established business as changes must be made throughout the entire facility involving everyone from office workers, production floor workers to top management. Going lean is a win-win for everyone because it is the first step to making a company better by saving money, improving quality and adding value to the organization and, ultimately, to the customer.
Going lean does take time and it relies on hard work from everyone. The Toast Kaizen DVD is one of the lean supplies offered through leanmanufacturingsupplies.com that will get any business started on the right path to a lean facility. It has been noted the video is the #1 selling lean training tool in the world and is considered to be the perfect introduction to continuous improvement. The 27 minute video highlights the seven deadly wastes found in both administrative offices and in manufacturing processes. And the video will teach on how to look for them and eliminate them. The DVD is an essential learning tool for an entire workforce that is already on a continuous improvement journey or just beginning to implement a lean program. A business owner commented, "The Kaizen DVD is very entertaining and easily understood. The DVD made it easier for us to implement a lean program and the results have been outstanding!"
Please visit http://www.leanmanufacturingsupplies.com/categories/Lean-Manufacturing-Tools/ or call toll-free (866)777-1360 to learn more about lean manufacturing supplies or other safety supplies. A professional representative is waiting to answer all your questions.