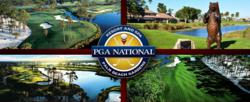 The two days of activities marked another milestone for the resort and surrounding Palm Beach Gardens homes for sale.
Jupiter, FL (PRWEB) November 06, 2012
PGA National celebrated the official grand opening of The Fazio golf course Nov. 1, with a grand-opening celebration Nov. 2.
The two days of activities marked another milestone for the resort and surrounding Palm Beach Gardens homes for sale.
The Fazio's 18 holes are a complete renovation of The Haig, the first golf course constructed at PGA National. In 1980, and George and Tom Fazio designed The Haig to honor PGA Tour champion Walter Hagen.
Enter the third generation of the family: Tom Fazio II. The noted golf-course designer has a resume that includes golf courses in Jensen Beach, in St. Lucie County, Vero Beach, in Indian River County, and Connecticut, New Jersey and New York.
Fazio stepped out to the tee during the grand-opening celebration Nov. 2 and ceremonially whacked one out into the fairway.
The par-72 course features modern technology, attention to agronomics, including Celebration Bermudagrass, and increased greens surfaces (2.5 acres) and total yardage (7,000.) It is one of five courses at PGA National and another selling point for Realtors at Waterfront Properties and Club Communities.
Fazio said his goal was to create a balanced course that can be enjoyed by both high- and low-handicappers. Lukus Harvey, PGA National's greens director, said the goal was achieved by combining both traditional and newer design methods and described the project as "seminal."
Activities during the grand-opening celebration included a welcome breakfast at the Lakeside Lawn, speeches by Paing and Fazio and a day of play for invited guests.
The Fazio caps a massively successful rehabilitation project at PGA National that has spanned six years and attracted national attention. The renovations encompassed everything from the signature spa, to the 379 guest rooms, to the chic lobby and bar, to the upscale restaurant.
Joel Paige, the property's vice president / managing director, said the renovations have positioned PGA National as one of the great luxury resorts in the country, if not the world.
The Honda Classic returns to PGA National every year and, in 2012, for the first time, featured superstar golfer Tiger Woods. The 2013 event is set for Feb. 25 through March 3 at The Champion course.
PGA National also serves as the site of charity balls, fundraising activities and social gatherings, including weddings anniversary celebrations and bar and bat mitzvahs. It has a beautiful beach-entry resort-style swimming pool and an outdoor bar with live music.
For information, call Rob Thomson at 561-746-7272.