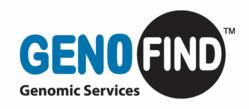 We designed GenoFIND to integrate our intimate customer service and expert advice with the higher quality downstream services that our customers need.
Ottawa, ON (PRWEB) November 07, 2012
DNA Genotek, a subsidiary of OraSure Technologies Inc. and a leading provider of products for biological sample collection, today launched GenoFIND™ Genomic Services, a new offering that delivers nucleic acid extraction and detailed analysis optimized for samples collected with the company's products. The GenoFIND service leverages the company's established expertise with DNA from saliva (Oragene®) to deliver superior support, analysis and easy-to-understand reporting of genomic data designed for geneticists and non-geneticists alike.
GenoFIND provides a full range of solutions for industry and academic researchers including: project design consulting (including technology selection), logistics and coordination, automated nucleic acid extraction, whole genome and targeted sequencing, array-based SNP and expression profiling, custom assay development, and full bioinformatic analysis. Available platforms include Illumina, Affymetrix, Life Technologies, Ion Torrent, and others. Services for GenoFIND are performed in a CLIA and CAP certified environment, ensuring quality laboratory procedures.
"Our close communications with thousands of customers around the world enables us to recognize a real need for researchers to get much higher levels of support from genomic service providers," said Ian Curry, President, DNA Genotek Inc. "To meet this need, we designed GenoFIND to integrate our intimate customer service and expert advice with the higher quality downstream services that our customers need. Our reputation for quality products and service means our customers can now trust us to fulfill an even broader spectrum of their needs, reaching their goals faster and more effectively."
About DNA Genotek
DNA Genotek Inc., a subsidiary of OraSure Technologies, Inc. (NASDAQ: OSUR), focuses on providing high-quality biological sample collection, stabilization and preparation products. The company's Oragene®.Dx product line is the only FDA 510(k) cleared saliva-based collection kit for in vitro diagnostic use. DNA Genotek also offers Research Use Only products to collect and preserve large amounts of DNA or RNA from saliva for use with humans, animals or livestock. The reliability and ease-of-use of the company's products have resulted in rapid adoption at top-tier health research institutions globally, including Harvard, Stanford, Cambridge, and Johns Hopkins. DNA Genotek markets its products worldwide and has a global customer base with thousands of customers in over 100 countries. For more information about DNA Genotek, visit http://www.dnagenotek.com