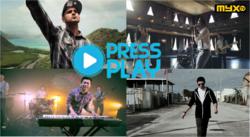 Here at Myx TV, we're proud to not only debut the music of such talented artists, but also to continue to tell their (Asian) American story
Redwood City, CA (PRWEB) November 05, 2012
In the final week for voting, eleven independent music artists from around the country go head-to-head for a nationwide premiere on Myx TV's Press Play's sixth episode. Meet some of YouTube's biggest online celebrities, bands that have opened for some of today's chart-topping artists, and music-makers whose sound and story continues to revolutionize the industry. Vote for your favorite artists and get your pick an in-studio performance at the Myx TV studios in California. The polls are open from November 5 til November 12, 12pm pacific time on Myx TV where the winner headlines the Press Play episode that airs on December 14.
YouTube phenom, New Heights, has long been a Seattle favorite, having gained popularity on campuses and local music festivals. Their grassroots celebrity brought them to the stage to open for some of K-Pop's biggest names like Se7en and Yim Jae Beum. Get to know their rock pop sound with their single "Take Me On" featuring Clara C. Meanwhile, internet celebrity AJ Rafael's single, "Without You" tells a story of coping with loss. Since 2006, his videos have gained him over 300,000 subscribers and 86 million hits. In 2011, he was nominated to be a part of Billboard's Battle of the Bands alongside Gentlemen Hall, Otenki, Hotels, Lightning Love, and Side by Side. A forerunner and trend setter, AJ Rafael began an autism benefit concert in 2006 that happens annually.
Capturing a broad audience online is one way to jumpstart a career in music. Doing voices of Lil Wayne, Drake, Eminem, and Ludacris brought Miami hip hop artist Vers a whopping 45 million views and changed the course of his career. This week, his track "Beautiful" joins the race to TV on Press Play. "I have a good message in my music and everything is clean," he says. "I think kids need somebody new to look up to that has a positive message."
The starting points may be different but this week, all the artists head to television. Check out self-taught musician Jake Miller of Weston, Florida whose skills behind the drums and guitar shine in his music video of "I'm Alright." YouTube videos brought Houston singer, Kathleen Nguyen, to the multi-city competition, Kollaboration Texas 2012. Get a peep into her track "Mr. Right." For Miami's Tiffany Miranda, "Perfect Mistake" is a track that showcases how involved the process is behind developing her pop music. "I am not only an artist but I produce and engineer all of my material from beginning to end."
The Jackson 5 did it and so can XOXO from San Francisco who has taken the family band to the next level. These cousins say they're all around the same age and height and their R&B jazz pop track "Tonight" will make stardom a family affair.
Independent artists of Inch Chua & The Metric System of Los Angeles have released two albums and take their single "The Chefalo Knot" to the test. Their music influences include Foo Fighters, Incubus, and Blur who all contributed towards the development of their unique sound. And speaking of unique, artist Jane Lui reveals adding the pings, clangs, and bangs of typewriters, water jugs, books, service bells, pots, and pans to her tracks. Her single "Heaven On A Hill" puts baroque pop on the map.
The first and only all Asian American dance rock/synth band in the world is a recognition that belongs to The Slants of Portland with their track "You Make Me Alive. With great music and great inspiration at the core of their music, they spent the last year's holidays performing for U.S and NATO troops serving in Eastern Europe. This decorated band was recognized with "Album of the Year" by Rockwired Magazine, Willamette Week, and Portland Music Awards. You may remember them as the headliners at SXSW (South by Southwest).
"We're a hard-working band that fights for Asian American rights around the world," they said. "The band is proud of our heritage and enjoys sharing a bold portrayal of Asian American culture."
And meet Baltimore's Sullee J whose unmistakable sound on "Voice of The People" has brought him to share the stage with big names and industry greats like DJ Whoo Kid, Jay Sean, Mos Def, DJ Drama, Waka Flocka, and DMX. Faith, poetry, and positive influence lace his music from start to finish. "I consider my music more than just words over a beat, specifically a message for the masses. I believe it could help spread the positive influence and gain the hearts of real hip hop fans." In between his signature delivery and versatile flow, he methodically injects his personal reality – a story of challenge and inspirational triumph.
"Here at Myx TV, we're proud to not only debut the music of such talented artists, but also to continue to tell their (Asian) American story," says Anthony Garcia, Head of Production for Myx TV.
Vote for your favorite artists on Myx TV where you decide who gets played! Log onto http://www.myx.tv for more details.
###
ABOUT Myx TV®:
Myx TV is the premier Asian American entertainment and lifestyle cable network in the United States. Dedicated to airing the best in entertainment, Myx TV's programming is a unique combination of original and syndicated shows, including magazine talk shows, interactive music video countdowns, independent film and Asian cinema, and animation, airing 24/7 in English. Broadcast in over 10 million households across the country it provides a platform for Asian Americans on mainstream television and is also represented on its official website by a community of bloggers from coast-to-coast. To find Myx TV in your area and for exclusive content online, visit http://www.myx.tv.