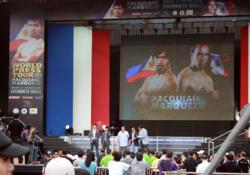 South Windsor, CT (PRWEB) November 06, 2012
Tickets for Pacquiao v. Márquez IV, the fourth boxing match between Filipino Manny Pacquiao and Mexican Juan Manuel Márquez are still available on Ticket Liquidator. The fight, scheduled for December 8, 2012 at the MGM Grand in Las Vegas, is the fourth installment of one of the fiercest rivalries in boxing and is currently the most expensive sporting event ticket on Ticket Liquidator, among the largest secondary-ticket sites on the Internet.
Even though Pacquiao won their most recent fight in a close decision, Pacquiao contends Márquez has insisted he won the fight. In an interview with ESPN, Pacquiao said he chose to fight Márquez one more time in order to set the record straight. The non-title bout will be fought at the welterweight division.
At age 33 to Márquez's 39, Pacquiao will be the younger man in the ring. Pacquiao holds the better head-to head record, as he is 2-0-1 in fights against the Mexican. When they last met in November of 2011 Pacquiao won in a controversial majority decision. Their first fight, on May 8 2004, had the featherweight championship on the line and ended in a draw. They met again in 2008, with Pacquiao winning in a split decision. Their lifetime record is startlingly similar; Pacquiao holds a lifetime 54-4-2 record with 38 KOs, while Márquez is 54-6-1 with 39 KOs.
Taking place at the MGM Grand's Grand Garden Arena, Pacquiao vs. Márquez IV promises to be one of the most exciting sporting events of the year. Fans still looking for tickets for Pacquiao vs. Márquez may browse a large selection at Ticket Liquidator.
Pacquiao vs. Márquez IV is not the only big boxing match on sale at Ticket Liquidator, as Miguel Cotto and Austin Trout face off on Saturday, December 1 at Madison Square Garden. The WBA Light Middleweight Title will be on the line during the fight, and tickets for Cotto vs. Trout are another big seller on the secondary market.
###
Ticket Liquidator is an online marketplace for tickets to live entertainment events. Since 2003, Ticket Liquidator has provided a selection of event seating inventory which now exceeds $1Billion. With 7-day Customer Service, PCI and SSL security certifications and a Worry-Free 125% Guarantee and Safety Net Program, Ticket Liquidator ensures that all purchases are made with confidence.