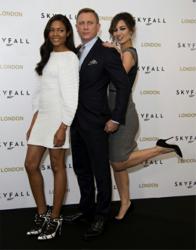 Sugar daddies have a lot in common with James Bond, such as their taste in very attractive women, fast cars, and not settling down
New York, NY (PRWEB) November 13, 2012
As the new James Bond movie Skyfall hits theatres, 007 has been voted as the ultimate sugar daddy by wealthy men, according to a poll conducted by Sugardaddie.com. The largest dating website for affluent men and attractive women has found that James Bond is the most admired fictional character among sugar daddies on the site, according to a survey of 700 millionaire bachelors on the site.
Sugardaddie.com founder and CEO Steve Pasternak says he commissioned the poll to verify whether James Bond shares a connection with the real-life men of mystery on the dating website.
"Sugar daddies have a lot in common with James Bond, such as their taste in very attractive women, fast cars, and not settling down," says Mr. Pasternack.
James Bond was voted for by the largest percent of men polled of a list of ten male sugar daddy characters as the ultimate sugar daddy. Bond Girls seemed to be the clincher in 007's race for the #1 sweetest spot in the sugar daddy dating world.
The following top 10 list shows the percentage of 700 sugar daddy members of Sugardaddie.com who chose the below fictional characters as their favorite:
1 - James Bond: 21%
2 - Bruce Wayne (Batman): 19%
3 - Tony Stark (Iron Man): 17%
4 - Mr. Monopoly: 12%
5 - Oliver "Daddy" Warbucks: 9%
6 - Austin Powers: 8%
7 - Rocky Balboa: 5%
8 - Willy Wonka: 5%
9 - C. Montgomery Burns: 3%
10 - Odysseus: 1%
With the record breaking opening of Skyfall last weekend, James Bond's standing as the ultimate fictional sugar daddy is likely to remain for many years to come.
Launched in 2002, Sugardaddie.com is the original online meeting place for sugar daddies and sugar babies, and now boasts more than 3.9 million members worldwide. SugarDaddie.com has been featured by numerous media outlets including ABC Nightline, The Dr. Phil Show, The Huffington Post, and The New York Times.