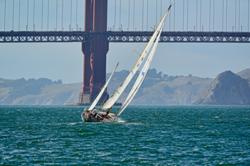 "DORADE is, quite simply, generally considered the greatest ocean racing yacht of the twentieth century." Douglas Aklins
San Francisco, CA (PRWEB) November 09, 2012
On Saturday, October 21, the fully restored classic yacht Dorade, under her newest ownership by William Brooks, returned after 76 years to San Francisco Bay sailing under the St Francis Yacht Club burgee, winning the seventh annual Leukemia Cup Regatta. JJ Fetter, a four-time Rolex Yachtswoman of the Year, helmswoman of an all-female, all-star crew aboard Dorade, against another historic racing yachts including, Santana, helmed by Ted Turner.
"Even for a boat with Dorade's extraordinary history, this was a milestone day," said owner William Brooks. "For the first time since 1936, she was tied up at the dock alongside her historic rival Santana, sailing in the Leukemia Cup alongside Santana and several other fine classic boats with long histories here in the Bay Area: Yucca, Copperhead and Yankee."
Dorade was designed by the legendary Olin Stephens, creator of six out of seven successful America's Cup defenders between 1958 and 1980. Olin and his brother Rod Stephens designed and built Dorade in 1929. In 1931 – at the ages of 20 and 22 -- they sailed Dorade in the TransAtlantic Race, winning against a fleet of much larger boats and more experienced crews. That win was followed by an extraordinary series of victories in the Fastnet, Cowles, and Bermuda races. In 1936, San Francisco's Jim Flood purchased Dorade and brought her to San Francisco where her presence helped put the then recently established Saint Francis Yacht Club on the yachting map, winning the prestigious and demanding Transpac Race to Honolulu. Since then, she has changed owners many times, sailing the west coast, Europe, and most recently in Newport, Rhode Island.
In 2010, William Brooks went to Newport in search of a classic yacht, and were immediately entranced by Dorade's history and pedigree. Rather than keep her as a museum piece, however, the Brooks decided to do something that many thought was impossible: restore her to full ocean-racing capacity.
In addition, Dorade and her crew topped the list as top fundraising boat during the Leukemia Cup challenge.
"We were delighted to be recognized, and look forward to raising even more for this worthy cause in next year's Regatta," said Brooks. "To our knowledge, this is the first time Dorade has been sailed in competition with an all-female crew, not to mention one with a pile of Olympic medals, national and international championships, and several collegiate and Yachtswomen of the Year titles."
Along with Fetter, Dorade's crew for the Leukemia Cup was comprised of an all-star team: Liz Baylis, Paige Brooks, Pam Rorke Levy, Melinda Erkelens, Melissa Purdy Feagin, Laurel Gaudet, Pam Healy, Genny Tulloch and Sally Lindsay Honey – wife of America's Cup technology director Stan Honey.
Brooks was also pleased to have best with another legendary yacht, Yucca: "I would bet that no one has sailed and won more races on San Francisco Bay than Hank Easom on Yucca, a fast boat in anybody's book," said Brooks. "So it was truly gratifying to keep pace with her, sailing neck and neck for much of the race. They beat us across the line by 14 seconds, but on corrected time we won the class. Hank Easom is the Dean of San Francisco Bay racing"
A native of San Leandro, California, William Brooks learned to sail in Monterey Bay as a boy, and went on to race on San Francisco Bay on his first yacht Quarter Pounder, sailing under the St. Francis flag. Brooks is also a well-known mountain guide, and over the past forty years has racked up first ascents in the Sierra and the French Alps, established a mountaineering equipment company, and has been honored with the prestigious Presidential Gold Medal, as well as recently the Lifetime Achievement Award from the American Mountain Guides Association. Since soloing as a pilot at age 13, Brooks has also set many world records in the air, including the record time for circumnavigating the globe (westward) and flying westward across the US, all in a specially equipped Citation business jet.
And what's next for Dorade?
"While it's often tempting to go easy on a classic yacht, the crew put the boat through her paces, and showed that even at 83 she can still be an impressive competitor," said William Brooks. "It could not have been a better kickoff to our West Coast campaign."
About The Leukemia & Lymphoma Society ® (LLS):
The Leukemia & Lymphoma Society ® (LLS) is the world's largest voluntary health agency dedicated to blood cancer. The LLS mission: Cure leukemia, lymphoma, Hodgkin's disease and myeloma, and improve the quality of life of patients and their families. LLS funds lifesaving blood cancer research around the world and provides free information and support services. Founded in 1949 and headquartered in White Plains, NY, LLS has chapters throughout the United States and Canada. http://www.lls.org
Media Contact: DP&A, Inc., David Perry / (415) 693-0583 / news(at)davidperry(dot)com