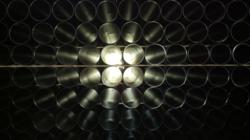 Here's a municipal partner who wants to help you. That sealed the deal for us.
Kilgore, Texas (PRWEB) November 08, 2012
Composite Fluid Transfer, LLC is moving against the stream of conventional pipe development. However, they hope their bold move will bring a downpour in profits as they settle into their plant in Synergy Park of Kilgore, Texas.
The young company has spent the last 15 months perfecting a composite pipe they believe will revolutionize the water transfer industry. Throw in incentives and lease space in the industrial park from Kilgore Economic Development Corporation, and they may have a product that's ready to flood the market.
The start-up is still at six employees for now, but even gradual growth meant looking for a larger facility. The building near Kilgore EDC's headquarters in Synergy Park was a perfect fit, according to John Ben Blackburn, a CFT principal.
"Many of the principal (investors) work in Kilgore, and we all had a strong desire to support Kilgore," Blackburn said. "We originally had a facility in Longview and outgrew it, so the move to Synergy Park was a good one. The facility was conveniently located, nice, it fit our needs and we have some room to grow. And that's room we didn't have to take on immediately."
For Kilgore EDC's end, they supplied $20,000 in incentive reimbursements, which helped with finishing out office space. "That helped to make the rent more reasonable," Blackburn said.
"We're expecting as we create more jobs here and grow our business, there would be more incentives," he added. "That really helped us, to say, 'Here's a municipal partner who wants to help you.' That sealed the deal for us."
That business is a 10-inch round pipe that looks like any other high-density polyethylene pipe one might find connected in municipalities, mining operations, agricultural centers or oil production sites. However, this one weighs only 20% as much as traditional high density polyethylene (HDPE) pipe.
The pipe-making procedure, which is currently in the process of being patented, began to take shape after a casual conversation about water transfer and composites.
"Somebody in that business asked one of our investors 'Can you do anything differently?'" recalled Blackburn. "Well we knew a little bit about pipes and some about composites, so through a system of trial and error we created this pipe. Then we worked on creating a way to connect it together."
They also turned to the expertise of chemical engineer Chris Taylor, who has taken charge of the 20,000 square-foot facility as the Engineering and Operations Manager. He is not only responsible for the shop's initial set-up, but also he has been instrumental in constructing the machine that makes the multi-layered, fiberglass-reinforced pipe.
"We originally were thinking this would be used in fracking to move water," Blackburn said. "But as we started down that path, we realized there are a lot of other situations where you need to move water, other than just for fracking."
Transferring water from place to place is a technique used in many industries, and this invention, weighing in at 130 lbs. for a 30' joint, puts the 700-800 lb. models out of the running for practicality.
"You get the same performance as the traditional pipe, but this allows two men to move it instead of having to use a crane. The lighter product with less bulk and fewer people involved, combined with the same, or better, pressure capabilities means substantial savings in time, labor, money and installation," Blackburn said. The product, FiberFlex Composite Pipe, also has a great deal of give and bend because of its design."
Because the pipe is lower in weight and lower in cost than traditional HDPE, investor expectations are high for expansion.
About Kilgore EDC: Kilgore Economic Development Corporation is an organization founded in 1990 and funded by a dedicated sales tax approved by voters. It is directed by a five-person board and managed by a staff of four with certifications in business retention and expansion, economic and community development and economic development finance.