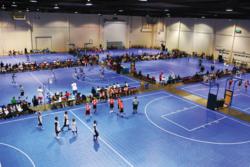 "Since we upgraded to SnapSports®, I have had coaches and players come to tell me how much they like playing on our tournament courts, the traction is incredible, the bounce is superior and the overall performance is second to none..."
- Matt Williams
Salt Lake City, UT (PRWEB) November 06, 2012
The multi-year partnership between SnapSports and 'Jam On It' will have teams from all over the country competing on SnapSports' multi-patented, high performance, BounceBack® basketball surfacing.
'Jam On It' is the nation's premier AAU sanctioned organization for local, regional and national basketball championship events for boys and girls ages 5 to 18 years old. These tournaments provide a well-organized and world-class athletic program for all children regardless of race, gender or economic background to compete.
"Teaming up with the world-class organization, 'Jam On it' and their AAU Sanctioned tournaments, which are focused on promoting healthy competitive youth sports is really an honor for all of us here at SnapSports." - Jorgen Moller, SnapSports.
The 'Jam On It' organization purchased over 200,000 feet of the multi-patented SnapSports BounceBack® sports flooring for all of their tournaments around the country. BounceBack® courts are a multi-patented sports surface which delivers the highest levels of performance and safe play. One of the patented technologies is the court's full-suspension understructure, which performs as a high impact shock absorber, with nearly 1200 shock absorbing support towers per square foot, helping to reduce fatigue and injury to athletes during aggressive play.
"Since we upgraded to SnapSports, I have had coaches and players come to tell me how much they like playing on our tournament courts, the traction is incredible, the bounce is superior and the overall performance is second to none and we tried all of the others. SnapSports has changed the game." - Matt Williams, AAU President, Pacific Region / AAU Girls Basketball National Co-Chair.
Matt Williams, has been conducting tournaments, camps and clinics in Northern Nevada for over 20 years. Matt Williams, is the governor of the AAU Pacific District, and is responsible for all AAU sanctioned sports in Northern California and Nevada. Because of the success of the AAU Pacific District, Matt was recently appointed as the AAU Girls Basketball National Co-Chair. Over a dozen AAU sanctioned local, regional and national 'Jam On It' Basketball tournaments are conducted in convention centers throughout the country each year.
"We know that the 'Jam On It' organization had many choices and offers thrown their way when it came time to choose the best sports surface and company to partner up with for many years to come. The decision to purchase our flooring and partnering with our company, is a true testament to the unmatched quality of our products and the entire team within SnapSports," said Moller.
Based in Salt Lake City, Utah - The team at SnapSports have been engineering, manufacturing and providing the world's leading outdoor multi-courts, basketball courts and modular sport surfaces for nearly four decades! As the pioneers of the modular sports surfacing industry you play on today, the SnapSports team continues to develop the most advanced, multi-patented, modular sport surfacing and outdoor multi-courts for top athletes the world over. With unparalleled experience and a high performance product line, SnapSports is the industries undisputed champion. SnapSports manufactures 24 x 7, in a 100,000 square foot ISO 9001:2008 Quality Certified facility in Salt Lake City, UT, and is supported by an authorized global network.
SnapSports is the official sport surface provider for the United States Futsal Federation, AAU Basketball Jam on It, Volleyball Festival, Special Olympics, AAU Basketball All Under One Roof, Veteran Wheelchair Games, Colorado Crossroads, National Collegiate Roller Hockey Championships, AAU Big Mountain Jam and USA Team Handball. In addition, SnapSports is an approved FIBA Associate Manufacturer and SnapSports athletic surfaces have been tested and comply with the European Union EN-14094 standard.