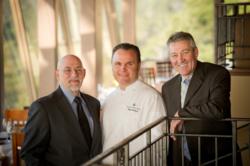 Carmel, California (PRWEB) November 06, 2012
An experience for all the senses, Hyatt Carmel Highlands Pacific's Edge Restaurant pair's unmatched views of Carmel and the famed Big Sur coastline with spectacular "California Coastal" cuisine prepared with the freshest locally sourced ingredients. Enjoy sophisticated comfort food in a convivial ambiance. Long a AAA Four Diamond award winner, Pacific's Edge was named one of the Top 100 Restaurants in the U.S. by Zagat and one of the Top Ten Restaurants with a View by USA Today. Wine Spectator has lauded our wine list with both Grand and Excellence awards. In addition to the world class cuisine at Pacific's Edge, the Hyatt Carmel Highlands culinary team is excited to introduce four culinary programs for 2013 sure to delight the senses. Forks. Corks. Action! 2013. Experience the Wine Maker Series, Meet the Farmer Lunch Series, Shake, Rattle and Roll and Hello Sunshine Thursday's.
Celebrate 2013 with Pacific's Edge Winemaker Series in the legendary Wine Room!
Learn, Swirl, Sip and Enjoy! Meet the Winemakers and enjoy a four course dinner with wine paired to each course. During the series winemakers will discuss the history, culture and qualities of the featured wines which will accompany Executive Chef Matt Bolton's seasonal menus. The winemakers series brings guests closer to the producers and personalities that craft the wine we love. "We are very excited about our 2013 series," said Wine Director Paul Fried. "We believe making wine is, in essence, farming, and in step with our farm-to-table philosophy. Our wine dinner series brings the farmers' passion for quality and natural goods to our guests."
Save the date for our 2013 Artisan Wines of California:

January 17 - Margerum Wine Company - Santa Barbara County
February 28 - Bedrock Wine Company - Sonoma Valley
March 21 - Mi Sueño Winery - Napa Valley
April 25 - Pelerin Wines - Santa Lucia Highlands
May 16 - Joseph Swan Vineyards and Winery - Russian River Valley
June 20 - Sheldon Wines - Santa Rosa
Learn, Feast and Enjoy at the "Meet the Farmer" Lunch Series
Meet the farmer, learn about key local ingredients from the farmer and learn how to prepare a dish by Chef Matt Bolton. Sip a glass of wine, take in the view and savor a three course lunch! This farm to fork experience is sure to take attendees on a culinary excursion.
Chef Matt believes in cooking local by using fresh seasonal ingredients from Monterey County's best artisan farmers and purveyors. Do you know where your food comes from? Hyatt Carmel Highlands invite you to meet our farmers, enjoy wine and a three course lunch.
Save the date for our 2013 Lunch Series:

February 2 - Monterey Abalone Company
June 8 - Local Wild Food Forager
July 13 - AA Sport Fishing of Monterey
October 19 - Carmel Valley Olive Oil Company
Chef Matt and the culinary team at Hyatt Carmel Highlands believe what you eat matters!
Shake, Rattle and Roll at the Sunset Lounge
Shake, Rattle and Roll your way through 2013! The cocktail series at the Sunset Lounge offers a hands-on workshop led by our enthusiastic and highly experienced mixologist. Each workshop will conclude with a R&D session for a cocktail that will run at the restaurant the following month.
Participants leave with a variety of take-away items, including recipe and sourcing cards, as well as produce and aromatics appropriate to the course topic.
Make it. Sip it. Love it. Save the date for these cocktail classes:

February 13 - Winter Warms Up
April 17 - Spring Fever
July 17 - Haute Summer Fun
November 7 - Fall Harvest Flavors
Hello Sunshine Thursday's
Hyatt Carmel Highlands offers the ideal setting to unwind from the week and celebrate the longer sunshine-filled hours. Gorgeous Pacific sunsets await you with special pricing on an inviting menu of handcrafted cocktails and sharable tapas dishes.
From 5p.m. until 7p.m. every Thursday from June through October, enjoy specially priced Hello Sunshine handcrafted cocktails. The talented mixologists of Hyatt Carmel Highlands will also introduce a new cocktail each month to the lineup of drinks offered in Sunset Lounge, created specifically for the series. In addition, guests can feast on an enticing array of intriguing small plates with a complimentary appetizer offered with the purchase of any two cocktails. The celebrations continue with live music by popular local performers Joe Indence and Lee Durley, entertaining guests beginning at 7p.m. until 10p.m.
Hyatt Carmel Highlands Culinary Team
Hyatt Carmel Highlands is fortunate to have a culinary team as passionate about their work as they are experienced and professionally trained. Each team member brings a wealth of knowledge to the table. The culinary team represents decades of experience with an unsurpassed love of food, dining and the pleasures of the table. From developing innovative menus to overseeing a large staff of dedicated professionals, these highly trained and exceptionally skilled culinary artisans bring taste and style to every meal served.
The culinary team includes:

Pastry Chef Gina Hudson
Wine Director Paul Fried
Executive Chef Matt Bolton
Manager of Outlets Jacques Melac
For more information, visit http://www.hyattcarmelhighlands.com or call (831) 620-1234.
About Hyatt Carmel Highlands Overlooking Big Sur Coast
Perched on the hillside of the Carmel Highlands with breathtaking views of the Pacific Ocean, Hyatt Carmel Highlands Overlooking Big Sur Coast combines true Carmel luxury with an approachable and sophisticated spirit. A haven for artists and discerning travelers since its opening in 1917, Hyatt Carmel Highlands Overlooking Big Sur Coast features 48 luxuriously renovated guestrooms, including 11 suites, 32 Ocean View rooms and five Garden View rooms. In addition, Hyatt Carmel Highlands Overlooking Big Sur Coast offers spectacular dining at the award-winning Pacific's Edge restaurant and California Market, 4,800 square feet of meeting space, in-room spa services, heated outdoor swimming pool, three spa tubs and a fitness facility. Situated only four miles from downtown Carmel, Hyatt Carmel Highlands Overlooking Big Sur Coast idyllic setting and personalized service has attracted families, weddings, honeymooners and privileged travelers for nearly a century. Hyatt Carmel Highlands Overlooking Big Sur Coast is recognized among the world's finest hotels as part of Condé Nast Traveler's 2010 Gold List and Travel + Leisure's 2009 "T+L 500" World's Best Hotels. http://www.hyattcarmelhighlands.com/.