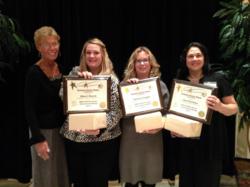 Seymour CT (PRWEB) November 07, 2012
Connecticut Basement Systems, Inc. is proud to announce that three of their Call Center employees have won the 2012 Superior Service Award given by the Better Business Bureau at the Awards Gala and Annual Meeting held November 1st at The Aqua Turf Club in Plantsville, CT.
The winners of the Superior Service Award are Denise Coogan, Sherri Masek, and Lisa Pantaleo.
The criteria for the BBB Superior Service Award includes customer interaction that demonstrates high ethical standards, patience, professionalism, and open and honest assistance as well as working well with fellow employees.
Sales Manager, Jeffrey Nelson, who nominated the three women for the award, describes how they display these characteristics every day. They treat each inbound call as special, taking great care to help the customer and explain the company's many services. With patience, courtesy, and compassion, they convert these inbound calls to opportunities for the company's Sales Team.
As Jeffrey explains, the first 'sale' the company makes is when a customer agrees to a set appointment. And these women work together tirelessly to set those appointments. Collectively, Denise, Sherri, and Lisa have more than 32 years of dedicated and loyal service to the company.
Connecticut Basement Systems, Inc. provides basement waterproofing, crawl space repair, residential and commercial foundation repair, and basement finishing services to homeowners and businesses throughout Connecticut and Westchester County, New York. Established more than 20 years ago, the company has built a reputation for high-quality workmanship, excellence, integrity, and innovative products unsurpassed in the industry.
Connecticut Basement Systems, Inc. is the flagship dealer of Basement Systems, Inc., the international network of 'dry basement science' experts and building performance contractors serving customers around the globe.