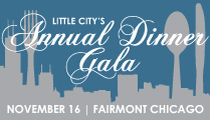 When businesses hire individuals with intellectual and developmental disabilities, the community as a whole benefits.
Palatine, IL (PRWEB) November 06, 2012
With a theme of "Little City, Big Solutions," Little City's Annual Dinner Gala held on Nov. 16 at the Fairmont Chicago will focus on fostering and promoting employment opportunities for individuals with disabilities. Motorola Solutions Foundation will receive Little City's most prestigious award—the Sidney L. Port Legacy of Distinction Award—for its many years of investment, advocacy and support of employment opportunities for people with disabilities.
"When businesses hire individuals with intellectual and developmental disabilities, the community as a whole benefits," commented Little City Executive Director Shawn E. Jeffers. "Motorola Solutions sets a noteworthy example for other companies to emulate because they studied and identified fruitful opportunities for both parties…they partnered with us in numerous ways such as assigning us monthly projects, hiring temporary labor and enlisting in our job coaching services for full-time, skilled employees."
"We accept this coveted honor wholeheartedly as it serves as a testament to the commitment we have to the communities in which we operate," said Matt Blakely, director, Motorola Solutions Foundation. "Little City serves as a fantastic resource for the Chicago-area community, and its mission of advancing disability care and employing people with disabilities, is something we're proud to support."
Eduardo Conrado, Chief Marketing Officer, Motorola Solutions, will accept the award on behalf of Motorola Solutions.
Little City's Annual Dinner Gala will feature a cocktail reception, dinner, dancing and a robust silent auction in an effort to raise much-needed funds for innovative programming and services. Emcees include WGN's Emmy-winning journalist, Tom Negovan, and his wife, Splash Editor at Chicago Sun-Times, Susanna Negovan.
Motorola Solutions Foundation serves as the platinum sponsor of the event along with gold sponsors, Tim & Nancy Desmond and Walgreens. Silver sponsors include: Eleni & Jimmy Bousis; Merle & Verne Carson; the Power Family Foundation and Paramount Staffing. Bronze sponsors include: the Alex Gianaras Family; the Hockfield & Rose families; Daniel Luber & Karen M. Wickman; Advocate Lutheran General Hospital; Breakthrough Technologies, LLC; Daley & George Attorneys at Law; Hockfield & Associates, Inc.; Mesirow Financial; Midway Moving & Storage; Northwest Community Healthcare; and U.S. Cellular. The official media sponsor is the Chicago Sun-Times.
Founded in 1953, Motorola Solutions Foundation is the charitable and philanthropic arm of Motorola Solutions, which focuses its financial contributions on public safety, disaster relief, employee programs and education especially in science, technology, engineering and math. With employees located around the globe, Motorola Solutions seeks to benefit the communities where it operates.
Individual reservations begin at $400 (of which $275 is completely tax-deductible). Doors open at 6:30 p.m. on Friday, Nov. 16.
Registration is available at http://www.littlecity.org/annualgala.
For additional opportunities to support individuals with autism and other intellectual and developmental disabilities, visit http://www.littlecity.org/support.
For complete information, visit http://www.littlecity.org or contact Sally Blake at sblake@littlecity.org or 847-221-7831.
###
About Little City Foundation
For more than 50 years, Little City Foundation has developed innovative and personalized programs to fully assist and empower children and adults with autism and other intellectual and developmental disabilities. With a commitment to attaining a greater quality of life for Illinois' most vulnerable citizens, Little City actively promotes choice, person-centered planning and a holistic approach to health and wellness. Little City's ChildBridge services include in-home personal and family supports, clinical and behavior intervention, 24/7 residential services and special needs foster care and adoption. Little City's LifePath Adult Services offers a variety of residential options, employment opportunities, home-based services, case management, day supports, Special Olympics, an award-winning Center for the Arts and more. The organization has a 56-acre campus in Palatine and offices in Chicago. Visit http://www.littlecity.org.
About Motorola Solutions
Motorola Solutions is a leading provider of mission-critical communication solutions and services for enterprise and government customers. Through leading-edge innovation and communications technology, it is a global leader that enables its customers to be their best in the moments that matter. Motorola Solutions trades on the New York Stock Exchange under the ticker "MSI." To learn more, visit http://www.motorolasolutions.com. For ongoing news, please visit our media center or subscribe to our news feed.
MOTOROLA, MOTO, MOTOROLA SOLUTIONS and the Stylized M Logo are trademarks or registered trademarks of Motorola Trademark Holdings, LLC and are used under license. All other trademarks are the property of their respective owners. ©2011 Motorola Solutions, Inc. All rights reserved.