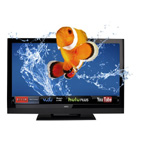 Atlanta, GA (PRWEB) November 08, 2012
10rate editor Steve Holdgren and John E. Moore took a look at all the TVs that are going to be on the market this holiday season and cut through all the choices out there to come up with the best black Friday deals. According to the Best Black Friday TV Deals page at 10rate.com they selected their top choices based on the following criteria:
1) Price and Value for Price
2) Reliable Performance
3) Resolution
4) Absence of fancy features (like 3D and Internet TV that add to price)
5) Manufacturers Warranty time length
6) Parts and Repair Availability
The top 5 TVs named on the list are the: Panasonic VIERA TC-P50U50, Samsung PN60E550, Vizio E3D420VX, LG 47CS570, Toshiba 32C120U. Steve goes through some of the basic features of each TV, offers some quick specs, and how much you can find them for. Editors said the Panasonic VIERA TC-P50U50 "is a lower line plasma from Panasonic but still quality oriented. It's going to give you the best picture quality of this list, but is better suited for medium to darker room lighting."
When looking at the Samsung PN60E550, Steve said, "you do want that higher 1080p resolution for sure. This plasma from Samsung is priced exceptionally well and will give you a great home theater type picture experience in dark to low light rooms." The Vizio E3D420VX placed third on the list and is one of the best deals for a 3D TV out there right now.
The LG 32CS460 and the TCL L40FHDP60 round out the top five TVs on the list. When looking at the LG TV, editors said, "This little 32 inch unit has clean lines and solid performance even with HD signals. On a TV this size I doubt you will even notice the difference when you have that HD signal pumped into it." When talking about the TCL TV, Steve noted, "It's not the best looking TV in the market but 40 inches is just a whole lot bigger than what you can get in other brands for $400."
10rate.com conducts reviews in various product and services categories and publishes "Expert Top 10 Lists for Everything in your life." The company's web site strives to "Make it Easy" to select from the hundreds of choices there are in the product and service market place. All products and services are thoroughly researched by the companies expert editors prior to receiving a rating on a 1-10 scale. In addition to product reviews the companies editors write guidelines, buying guides and articles on various topics surrounding each product or service category covered to help educate the consumer.