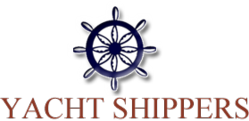 Miami, FL (PRWEB) November 06, 2012
Yacht Shippers of Miami announced today that it is offering 10% off for its savvy yacht owners who are seeking to save significantly on the purchase of their next yacht transport service. Any clients who book a regular yacht shipping service are welcome to take advantage of this special pre-payment offer with a value of a 10% savings.
In order to take advantage of this special offer, clients need to book their yacht shipping with Yacht Shippers and pay in advance at least 3 months prior to loading. The team at Yacht Shipper's knows that many yacht owners plan their cruising vacations months in advance and are excited to extend this discount to those clients.
This special promotional offer is part of the management team at Yacht Shippers take initiative plan to provide their clients with the best yacht and boat shipping services at the lowest prices. And don't be fooled by the fact that Yacht Shippers just had their grand opening this month; they are by no means rookies to the marine transportation industry. They have done their homework. Founder and owner Marvin Williams is a retired boat builder of 40 years who is well-known and highly-connected in the marine industry. Over the span of his career he has worked diligently to build and establish a vast global shipping and logistics network. As a builder and boat owner himself, he has dealt with both ends of the shipping spectrum: the client and the yacht transportation company. He knows from experience what the client is looking for (he used to be one!), and what the competition is providing (he's booked with them before!). His company is built on a strong foundation of his extensive background and knowledge coupled with a team of experienced, professional shipping and logistics experts. In fact, experts are projecting Yacht Shippers to quickly move to the forefront of the yacht transportation industry as early as next quarter.
About Yacht Shippers
Yacht Shippers is a marine transportation company that specializes in worldwide boat shipping and yacht shipping. They offer many deluxe loading and transport options including roll-on/roll-off and lift-on/lift off loading, custom boat shipping cradle construction, premium insurance packages, and much more. Fortified by over 40 years of combined experience in the industry, they provide their clients with comprehensive shipping and logistics services to all four corners of the earth; including services all major call ports.
For more information on Yacht Shippers pre-payment option for a yacht transport and the conditions that apply or for their regularly rated services, please call 561-921-8775 and speak to one of their experienced booking agents.