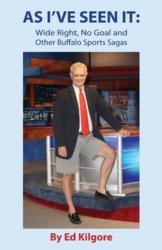 hey're stories that even the most avid sports fans would never know about unless somebody shared them
(PRWEB) November 06, 2012
November 10th & 11th will be the Made In America Store's Annual Veteran's Day Weekend. Veterans will be given a discount and special deals all weekend long. Among the vendors that will be displayed at the event, Ed Kilgore, the Sports Analyst from Buffalo New York, will be promoting his book about the history of Buffalo Sports and his involvement in all of it.
Click here to start shopping for 100% American made books from the Made In America Store!
Ed Kilgore is a prestigious sports anchor for WGRZ-TV from Buffalo, New York. With a New York State Emmy and 40 years under his belt and today Ed holds the position of sports anchor, host and photographer.
The Made In America Store currently sells Ed Kilgore's book titled "As I've Seen It: Wide Right, No Goal and Other Buffalo Sports Sagas" which is about his life through the years of sports in Buffalo and is indeed 100% American made. The all American made products store currently sells over 50 different kind of books from local and national authors.
Kilgore's career in journalism started back in 1969 and during his career he has interviewed General Managers, Head Coaches and even O.J. Simpson, right before he left for San Francisco.
Ed Kilgore covered the Buffalo sports scene for four decades and certainly involved remembering the obvious stories. Veteran television sports journalist Ed Kilgore shines a spotlight on dozens of banner moments including wide right, no goal, the demise of the Buffalo Braves and the Bisons' debut in a new downtown ballpark. What makes Kilgore's first book so memorable is all the "stories behind the stories" that spring to life.
Looking to buy Ed Kilgore's book about his life in Buffalo Sports? Click here to start shopping today!
"They're stories that even the most avid sports fans would never know about unless somebody shared them," says Kilgore. "It's time to share."
The book is filled with dozens of photos of sports and media figures, images that vividly capture memorable moments. The final chapter tells an inspiring story about Kilgore's climb to the summit of Mt. Kilimanjaro.
"This six-day climb, at the age of 63, made me literally want to shout from a mountain top that all of us are capable of doing more than we think we can," he said. "And the more difficult the task, the more enriching the payoff."
The Made In America Store is the only brick and mortar store that sells 100% made in the United States products from over 350 vendors. Consumers can visit http://www.MadeInAmericaStore.com or call 716-652-4872 to get more information or shop our catalog of over 3,500 items. Both Active Duty Military Personnel and U.S. Military Veterans receive a 10% discount every day. Followers of the "Made In America" movement can keep updated with the Made In America Store through Facebook, Twitter, Google+, Pinterest, FourSquare and even their own blog on Wordpress!