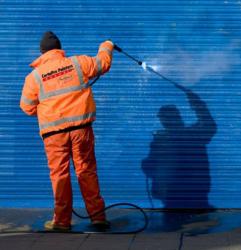 (PRWEB) November 06, 2012
ProGroup Network, providers of expert surface installation, repair and maintenance throughout the United States, recently announced the launch of their new website, ProGroupNetwork.com. Aiming to provide an overview of their services, including commercial painting, power washing, EIFS repairs, epoxy applications, electrostatic painting, carpentry repair, drywall repair and more, both commercial and residential customers will find valuable resources and information within this website.
The management of ProGroup Network says the new site makes it easier for customers to see what the ProGroup Network has to offer. Not only can customers read more about the services available to them and the types of facilities ProGroup Network focuses on, but also can easily request a free, comprehensive quote for their next project. By submitting a short form indicating the kind of service the customer is looking for and what surface they have that needs attention, the ProGroup Network experts will respond quickly with a free quote regarding their needs.
The ProGroup Network Company provides a variety of surface installation, repair and maintenance services. Ranging from residential and commercial painting to pressure washing services, EIFS repairs, drywall and carpentry repairs, epoxy applications and more, ProGroup Network brings more than two decades of experience and expertise to the table with every project. Locally owned and employing only the most highly trained and skilled workers, they stand behind their work and offer guaranteed satisfaction.
ProGroup Network understands the unique needs of today's business owners, especially those who require work to be completed with minimal disruptions to their daily business operations. Whether you are considering commercial painting services for your office building, need an EIFS specialist to repair damage to your structure or would like to discuss power washing services to extend the life of your commercial building, the ProGroup Network encourages you to visit their new website, ProGroupNetwork.com to learn more.