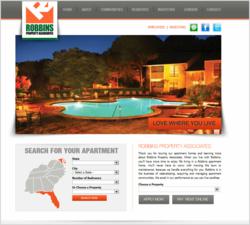 Love where you live at Robbins Property Associates
Dallas TX (PRWEB) November 07, 2012
Robbins Property Associates, LLC, a premier apartment management company in Florida and Maryland, has a striking new website presence to attract prospective residents and better serve their current ones. Their new website, RobbinsPropertyLLC.com, was designed by Spherexx.com, a leader in multifamily industry website development, internet marketing, and software solutions services.
Serving as a central hub for all of Robbins properties, the new website is the home of outstanding Florida properties such as Tampa's Lakes of Northdale, St. Petersburg's Isles of Gateway, and Belleza in Kissimmee, as well as Robbins' unique duplex community, Melvin Park, located in Catonsville, Maryland. The corporate website features fifteen Robbins' communities and offers helpful information with instant translation options.
The new site's home page features inviting photographic vistas along with a simple search tool that apartment hunters can use to quickly find a new home. After choosing a community to view, website visitors can visit photo galleries, browse available floor plans, print a brochure, schedule a visit, and complete a rental application right from the website.
Some great service tools are available for current Robbins residents, as well. Residents can use the new website to effortlessly submit service requests, complete resident surveys and referrals, and even pay their rent online. Like prospective residents, they can also view area resources near their community, including popular restaurants, shopping venues, banks, hospitals, schools, and more.
Investors and job seekers also have resources available at RobbinsPropertyLLC.com. A list of current Robbins' investors is available to the public, as well as a list of investor requirements, an overview of the Robbins' investment strategy, and contact information for interested parties. Job seekers can peruse current openings on the Careers page or submit their resume for future consideration.
Spherexx.com also provides Robbins with Search Engine Optimization Services. The new Robbins website is ranked on the first page of Google search engine results for many top search terms, including "apartments in Lake Worth" (Esperanza), "apartments in Sanford" (Sailpointe at Lake Monroe), and "apartments in Pasadena FL" (Waters Pointe). Robbins also uses ILoveLeasing.com, a Spherexx.com lead management software, that has improved closing rates across all their properties.
Some of the most impressive features about the new Robbins corporate website are not visible to the public. Employees can access the company calendar, collateral, training sessions, website traffic and even manage rental applications from the content manager module. Additionally, Robbins' employees can update investor information, job offerings, pricing, seasonal office hours, and easily share information across the Robbins Intranet, as well as perform administrative functions without having to involve IT professionals.
The Robbins' management team is holding their national meeting mid-November in Boca Raton. Spherexx.com has provided a sponsorship for the upcoming session. Spherexx is a member of the National Apartment Association's Supplier's Council, the Florida Apartment Association, as well as several other state and metro apartment associations, and it houses two Certified Property Managers designated by the Institute of Real Estate Management (IREM). The agency's commitment to its clients goes far beyond creating a website that will draw customers and well serve residents; the company is dedicated to supporting an industry with the most advanced Internet marketing and management tools available for their mutual and long term success.
About Spherexx.com®―Ad Agency | Software Development | Data Centers
Established in 2000, Spherexx.com is an established leader in the apartment industry with specialties in website development, lead/traffic generation and software development services. With offices located in Tulsa, Dallas, Austin, and Houston, the company has been distinguished as one of INC5000's fastest growing private companies. Spherexx.com received an International Summit Creative Award 2012 for creative and communication excellence.
Spherexx.com offers a wide selection of professional services including web design and development, touch-screen kiosks, Internet lead generation tools, online advertising, apartment leasing consulting, advanced mobile technology, apartment lease-up marketing consulting, and search engine performance including pay per click. The company also provides branding services, video/multimedia production, print media, and copywriting as well as website and email hosting, database solutions, pay per click, e-commerce solutions and custom programming.
Spherexx.com has developed CRM (customer relationship management) products, marketing and lead generation tools that allow clients to better manage and convert leads to leases and sales. These applications are branded under ILoveLeasing.com (for apartment industry); HomeClosingtools.com® (for home and condo developers) & MyClosingTools.com® (for reverse mortgage industry). Other software products built and supported by Spherexx.com developers are: ApartmentWebsites.com, MarketSurveyTools.com, MessageKast.com and RentPush.com, revenue management.
Spherexx.com has provided services to innovative real estate companies like Lincoln Property Company, Simmons Vedder, Cottonwood Capital, Forest City Enterprises, Graham Residential, ZRS Management, LLC, Elevate ROI LLC and American Residential Group. The company represents a collective ninety years of direct, executive level property management experience that readily identifies with the challenges and solutions of multi-family property management professionals.
About Robbins Property Associates, LLC―Apartments for Rent in Florida and Maryland
Robbins Property Associates, LLC, is a dynamic new company founded with the objective to provide superior service in the apartment management industry. Their expertise lies in protecting and preserving the asset while bringing value and professional management to our clients. They specialize in reducing expenses, improving management practices and marketing techniques.
Robbins Property Associates was founded by seasoned professionals, brothers Mitchell Robbins and Steve Robbins, who have been in the apartment management industry since the early 1980's.
Robbins Property Associates, LLC is capable of handling apartment management, in- house due diligence, property acquisitions, dispositions and construction project management. They have a diversified property management team that is experienced and able to manage any asset regardless of the circumstances. Currently, Robbins manages over 4000 units.