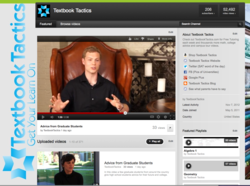 At its current rate of growth I think that we can expect Textbook Tactics to deliver more than a quarter million video lessons next year
Scottsdale, Az (PRWEB) November 12, 2012
Textbook Tactics has thus far created over 1,800 exceptional math videos and the explosive growth of their free homework help site for students was inevitable.
When Textbook Tactics reached this milestone they established themselves as a force to be reckoned with in the educational industry. In the three months since it went live, the website has garnered tens of thousands of views and is adding over one hundred new students each month.
The mission of Textbook Tactics is to deliver quality educational content to students in ways that make their time spent studying more effective and efficient. In order to accomplish this, the website is laid out in a way that quickly routes students to the tutorial they need. Each video on the site is also correlated with the problems in popular math textbooks to help students decide which video will be most helpful. Students can then bookmark the video that they are watching and return later to brush up before exams. It is features like these that have contributed to Textbook Tactics' rising popularity among students. "At its current rate of growth I think that we can expect Textbook Tactics to deliver more than a quarter million video lessons next year" stated Shawn Cox, CEO of Textbook Tactics.
The popularity of using videos to teach students has soared in the past few years with efforts made by Salman Khan and Bill Gates. What makes Textbook Tactics different from other such companies is the exceptional quality of the videos, the organization and the ability to connect with live, local tutors. Currently, the site offers more than 1,800 instructional math videos along with monthly college prep advice videos, insightful interviews with graduate students at top universities and academic success videos. All of this is offered in conjunction with free online tutoring each week and regular emails full of college advice, study tips and other free school resources.
Students are able to watch a selection of the company's math tutorials on Youtube, however, analytics show that students spend over 300% more time on each video when they are viewing the video on Textbook Tactics. "We attribute this phenomenon to the fact that the videos on our site are matched up to the problems in the students textbooks. Because of this, students don't need to jump from video to video like they do on Youtube, hoping to find one that matches what they are working on," responded Tony Sereno, CTO of Textbook Tactics.
Currently, the educational website correlates its' videos to over 45 textbooks. The company has stated that it not only plans to add more books as students request them, but to expand upon the subjects that it currently offers as well.
Educators interested in learning more about Textbook Tactics' or their new tutor search engine can visit http://www.TextbookTactics.com. Parents looking for tutors, free online tutoring and homework help can visit http://www.textbooktactics.com/Parents for more information.
About Textbook Tactics
Textbook Tactics, one of the largest providers of math tutoring online, provides families with every supplemental resource that they could need, (TextbookTactics.com).
Textbook Tactics has over 1,800 free math videos as well as college counseling videos, in depth interviews with college students and academic success advice. Textbook Tactics now offers tutors the ability to market themselves to parents looking for a tutor, for a low monthly fee.
Shawn Cox, CEO
Textbook Tactics
800-828-4603
http://www.textbooktactics.com