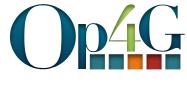 "It is a pleasure to have Derek assume this role as we continue to grow our client service and meet our philanthropic goals" Frank Hayden, Chief Operating Officer
Portsmouth, NH (PRWEB) November 07, 2012
US-based charity-focused panel specialist Op4G (Opinions For Good) has appointed Derek DiCiccio as Senior Director, Client Development. Derek assumes responsibilities for assisting revenue growth in a regional capacity. With more than 10 years of sales and marketing experience, DiCiccio's focus is developing strong partnerships with many of the top market research companies in the industry, applying his in-depth consultative knowledge. Prior to joining Op4G, DiCiccio held positions at Toluna and the Texas Golf Association.
Founded in 2010, Op4G invites its panel members - non-profit donors, fundraisers and volunteers - to participate in paid online research surveys, and then donate a portion of their income to one or more of its 350 plus registered non-profits.
Op4G provides client access to a unique database of highly qualified leaders and engaged members who participate in internet-based research for the opportunity to earn funds for themselves and/or to donate up to 100% of their earnings directly to one of our partnering charities. Since beginning client delivery in June 2011 our clients incentive funds have allowed our panel members to redirect over $250,000 to our growing number of non profits. Panel member trust is the key to our quality data. Each element of Op4G is designed to fiercely protect our Members' privacy. Every activity is opt-in, every survey participant is anonymous, and every member is in full control of their secure information.
To learn more about our client services or how to begin a partnership that benefits your charity, please contact support(at)Op4G(dot)com or visit http://www.Op4G.com