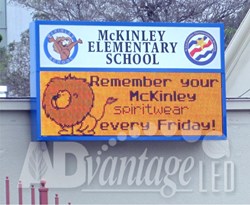 "Broadening and expanding into new schools districts will allow us to further this growth while helping schools make the most of their signs." Richard James, ADvantage LED Signs
Santa Monica, CA (PRWEB) November 07, 2012
ADvantage LED Signs is announcing today its plans to expand into more school districts with their LED school sign solutions and services.
Richard James, media contact, was asked earlier about the expansion. "LED School Signs provide such a useful tool to schools that many fail to realize until they make the switch. There are still schools that use the old-fashioned reader boards but those are out of date. They no longer serve the purpose they once did. We just completed five Santa Monica Schools with LED signs and trained the staff on creating powerful messages. The training is offered to customers for every sign we sell, we want to make sure the customer is getting the most out of their purchase."
When asked to give an example of a recent sign the company installed Mr. James answered, "We recently installed an LED school sign consisting of a single face display and customer ID cabinet with the school logo for McKinley Elementary School located off Santa Monica Blvd and 24th street. McKinley Elementary School is part of the Santa Monica School District which also includes Malibu and together makes up elementary, middle schools, high schools, and adult education throughout the city. School LED Signs gives the school a more professional appearance, and they are able to get news and updates that happen quickly to students and parents".
"ADvantage LED School LED signs are useful for schools for many reasons such as announcements for sporting events, a variety of upcoming school functions, recognizing teams, teachers, or individual students, public announcements, and displaying the current time and temperature. The school can be as creative as they wish with the messages, which is what makes the LED signs so unique", said Mr. James.
When asked about the future and expanding into new school districts, Mr. James smiled and said, "The future of the company is very bright as we continue to grow in many different industries by being a true turn-key solution provider. Broadening and expanding into new schools districts will allow us to further this growth while helping schools make the most of their signs. Many schools do not realize the value of an LED school sign until they actually have one. We want to get the word out that these LED signs are an excellent communication medium for any school. Our goal as a company is to create the best signage at affordable prices while providing the best customer service."
About ADvantage LED Signs
ADvantage LED Signs founded in 2009 has been producing LED signs for businesses such as restaurants, hotels, schools, billboards, convenient stores, medical facilities, real estate, and retail establishments nationwide. The company creates LED signage in different styles and sizes to meet the customer's needs. They stand behind what they do best and operate as a total turn-key solution for signage.