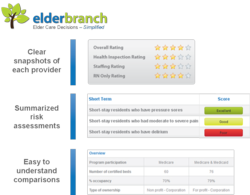 New York, NY (PRWEB) November 06, 2012
ElderBranch is a new online information portal that helps people find and evaluate long-term care providers. ElderBranch's mission is to support users in making the best decision possible for themselves and their loved ones. ElderBranch accomplishes this by following two key principles:
1. Putting the information in the hands of users. This means no cherry-picking or massaging the data. ElderBranch presents all available information, for all available options.
2. Presenting the information in a clear, digestible way. ElderBranch distills and simplifies Medicare data, saving users from having to make sense of the numbers and helping them to interpret the information correctly.
While other sites have sprung up in recent years to aggregate long-term care options, these sites have not necessarily led to increased transparency or better data. Some offer biased information favoring specific providers with whom they have financial relationships. Others simply present raw data that lacks the context and analysis required to help people make decisions.
ElderBranch offers a comprehensive, national database of nursing homes. Using the search tool, users can find a home in their desired location and access key details including the home's Medicare ratings and latest health inspection report. ElderBranch has created a scoring system to help users understand how homes perform versus their peers. As ElderBranch expands, users will be presented with supplemental information such as a home's philosophy of care, testimonials, photos and videos.
ElderBranch also offers rich blog content to help users navigate the senior care issues that affect them. These include articles and tools on health care policy, health study findings and the economics of long-term care. As always, ElderBranch presents this information in a clear and straightforward way.
Though initially focused on nursing homes, ElderBranch will be expanding in the future to cover the full spectrum of senior care including assisted living, independent living and home health care.
Visit http://www.elderbranch.com to learn more.