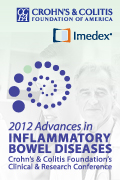 "The Meet the Expert sessions and panel round-table provide a unique experience that falls outside of a traditional didactic learning model and is valuable in a different way." -Dr. Stephen B. Hanauer, conference co-chair
New York, New York (PRWEB) November 08, 2012
A brand new Meet the Expert breakfast series has been added to this year's Advances in Inflammatory Bowel Diseases conference. The series will include a total of 6 breakfasts. This series provides attendees an intimate session with an expert specialist who will lead an engaging topic-focused discussion. With seating limited to 25 attendees per breakfast, each breakfast will be highly interactive and provide an expanded opportunity for learning. Seating is extremely limited and expected to sell out quickly.
Also added on Friday, December 14, 2012, during the Pediatric Session VI C, is a special "Stump the Panel" round-table. Pediatric gastroenterologists are invited to submit an actual pediatric inflammatory bowel disease case that has been seen in their clinic or practice. Opinions and discussion by key thought leaders on these challenging case will provide valuable management insights for all attendees.
According to conference co-chair Dr. Stephen B. Hanauer, "Each year we add more educational opportunities and options for our attendees to learn. The Meet the Expert sessions and panel round-table provide a unique experience that falls outside of a traditional didactic learning model and is valuable in a different way. We expect these sessions to be very popular."
This year commemorates the 11th anniversary of what has become the "can't miss" event for healthcare professionals and researchers who study and manage patients with inflammatory bowel diseases. Co-chaired by Richard P. MacDermott, MD, MACG and Stephen B. Hanauer, MD, FACG, the outstanding faculty is comprised of over 55 expert specialists who will lead the sessions and interact with conference attendees. Workshops (The Future of IBD and The Basics of IBD) will be featured alongside the expanded three-track format for clinicians and researchers. The conference also continues to offer expanded sessions for nurses and pediatric gastroenterologists. All tracks will be comprised of the foremost bench to bedside leaders from across the country.
About the Crohn's & Colitis Foundation
The Crohn's & Colitis Foundation of America (CCFA) is the largest voluntary non-profit health organization dedicated to finding cures for Inflammatory Bowel Diseases (IBD). CCFA's mission is to cure Crohn's disease and ulcerative colitis, and to improve the quality of life of children and adults who suffer from these diseases. The Foundation works to fulfill its mission by funding research, providing educational resources for patients and their families, medical professionals, and the public, and furnishing supportive services for those afflicted with IBD. For more information, visit http://www.ccfa.org, call 888-694-8872, like us on Facebook, or follow us on Twitter.
About Imedex®
Imedex is an industry leader in providing accredited, independent continuing medical education to health care professionals. We develop high quality scientific programming that translates the latest research into clinically relevant information. The activities have exceptional organization and outstanding educational value, with a proven sustained impact on disease management.
Our programs focus on improving patient care around the world. With over 50,000 e-learning experiences annually and more than 97,000 live meeting attendees since 2001, Imedex truly educates the global healthcare community. At Imedex, education is the best medicine.®