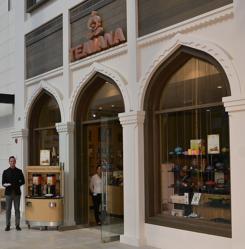 I am proud of Teavana's continued global growth and expansion, enabling us to bring our unique brand experience to more customers than ever before. We remain committed to expanding the culture of tea across the world
Atlanta, GA (PRWEB) November 06, 2012
As part of its ongoing growth and expansion strategy, Teavana is proud to announce that it has opened its 300th company-owned store in North America and successfully completed the conversion and re-branding of all 46 Canadian Teaopia stores. In addition, in partnership with the Alshaya group, the first Teavana store has opened in Kuwait. These milestones represent Teavana's commitment to expand the culture of tea across the world and bring its unique global concept and fine loose leaf teas to more customers in more countries than ever before.
CEO and Founder Andrew Mack stated: "I am proud of Teavana's continued global growth and expansion, enabling us to bring our unique brand experience to more customers than ever before. We remain committed to expanding the culture of tea across the world and have laid great foundations to continue global growth in the years ahead."
North America:
Teavana has completed the opening of its 300th company-owned store in North America. Opening on October 27, 2012, the Solano store in Northern California is the brand's 247th store in the U.S. and the 300th Teavana company-owned store in North America.
In addition, Teavana has completed a successful conversion and re-branding of all 46 of the Canadian Teaopia retail stores, which were acquired on June 11, 2012. Each of these stores has been reinvigorated and reinvented to bring the full Teavana brand experience to our valued Canadian customers. These new locations join the existing Teavana fleet in Canada to bring the brand's high quality teas, merchandise and fully trained Teaologists to a total of 55 locations across Canada.
Middle-East:
In connection with M.H Alshaya, Teavana opened a store on November 5, 2012 at The Avenues in Kuwait, which is its first store outside of North America.
During the opening weekend, Teavana was very proud to welcome Kuwait's Prime Minister, His Highness Sheikh Jaber Mubarak Al-Sabah, to its new store as he toured a major new expansion of The Avenues mall.
This launch is in line with Alshaya's ongoing commitment to introduce innovative new retail concepts to consumers in the region. New store openings at the mall, which expanded Alshaya's portfolio to over 70 brands, further reinforce the company's position as one of the world's leading international retail franchise operators.
Commenting, Mohammed Alshaya, Executive Chairman of Alshaya said: "We have launched some very special new brands into the region this week, and it is fitting that Teavana makes its debut in what is now one of the Middle East's largest and most exciting malls."
About Teavana:
Teavana is a specialty retailer offering more than 100 varieties of premium loose-leaf teas, authentic artisanal teawares and other tea-related merchandise through 300 company-owned stores and on its website. Founded in 1997, the company offers new tea enthusiasts and tea connoisseurs alike its "Heaven of Tea" retail experience where passionate and knowledgeable "Teaologists" engage and educate them about the ritual and enjoyment of tea. The company's mission is to establish Teavana as the most recognized and respected brand in the tea industry by expanding the culture of tea across the world. To support the tea culture globally, Teavana donates approximately 1% of annual net profits to the Cooperative for Assistance and Relief Everywhere, Inc., or "CARE," through its Teavana Equatrade program. For more information, visit http://www.teavana.com.
Forward-Looking Statements:
This news release includes forward-looking statements within the meaning of the Private Securities Litigation Reform Act of 1995 as contained in Section 27A of the Securities Act of 1933 and Section 21E of the Securities Exchange Act of 1934, which reflect management's current views and estimates regarding our industry, business strategy, goals and expectations concerning our market position, future operations, margins, profitability, capital expenditures, liquidity and capital resources and other financial and operating information. You can identify these statements by the fact that they use words such as "anticipate," "assume," "believe," "continue," "could," "estimate," "expect," "intend," "may," "plan," "potential," "predict," "project," "future" and similar terms and phrases. We cannot assure you that future developments affecting us will be those that we have anticipated. Actual results may differ materially from these expectations due to risks relating to our strategy and expansion plans, the availability of suitable new store locations, risks that consumer spending may decline and that U.S., Canadian and global macroeconomic conditions may worsen, risks related to our continued retention of our senior management and other key personnel, risks relating to changes in consumer preferences and economic conditions, risks relating to our distribution center, quality or health concerns about our teas and tea-related merchandise, events that may affect our vendors, increased competition from other tea and beverage retailers, risks relating to trade restrictions, risks associated with leasing substantial amounts of space, and other factors that are set forth in the Company's filings with the Securities and Exchange Commission ("SEC"), including risk factors in our Annual Report on Form 10-K filed with the SEC and available at http://www.sec.gov and in all filings with the SEC made by us subsequent to the filing of the Form 10-K. Other factors that could change expected outcomes include our ability to integrate Teaopia's operations as planned and the continued performance of its locations as planned. If one or more of these risks or uncertainties materialize, or if any of our assumptions prove incorrect, our actual results may vary in material respects from those projected in these forward-looking statements. Any forward-looking statement made by us in this news release speaks only as of the date on which we make it. Factors or events that could cause our actual results to differ may emerge from time to time, and it is not possible for us to predict all of them. We undertake no obligation to publicly update any forward-looking statement, whether as a result of new information, future developments or otherwise, except as may be required by any applicable securities laws.