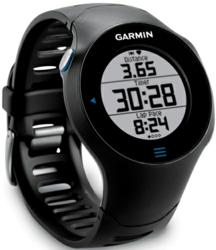 If you have ever wanted a Garmin 610 then this is the time to step up
Bozeman, MT (PRWEB) November 21, 2012
The Garmin Forerunner 610 is on sale for the lowest price ever for just 11 days from Friday, November 23rd until Monday December 3rd, at just $299.99, that is $100 off or 25% savings according to the Heart Rate Watch Company.
"This is a crazy price on one of the popular GPS watch units ever made and the first ever watch featuring touch screen navigation" says Rusty Squire, President of the heart Rate Watch Company. He adds, "This was our favorite all round GPS watch for 2012 because it handles data for running, cycling and literally all outdoor sports".
The Garmin 610 offers heart rate, speed, distance, post exercise maps, elevations, measures training load and offers dozens of advanced measures and features. "I used this watch all summer and it transitions well from one sport to another - biking, hiking, running and more - if it is outdoors this watch can measure it", says Squire.
Dealers have never been allowed to sell the Garmin Forerunner 610 at anywhere near this deep a discount ever since its introduction. "If you have ever wanted a Garmin 610 then this is the time to step up", says Squire He adds, "It also makes it more within gift giving budgets for that special person, so I expect there will be a lot of them under the tree this Holiday season".
The Garmin 610 is one of the smallest and lightest GPS watches Garmin makes and packs a good 7 hours in GPS mode. "I even wore mine as a daily watch because it looks good", says Squire. He chuckles, "It was so nice that my wife took it from me for mountain biking".
The Garmin Forerunner 610 is available at the Black Friday sales price of $100 off at the Heart Rate Watch Company but only from Friday, November 23rd through Monday, December 3rd and then they are all gone.