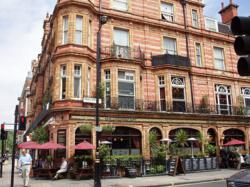 London (PRWEB UK) 6 November 2012
Travelers planning a trip to London should be aware that Mayfair is the most expensive neighborhood based on the cost of its lodging. That's according to a recent survey from CheapLondonHotels.co.uk. The survey compared hotel rates in the various London districts for the month of October 2012.
In Mayfair, travelers had to pay on average of £187 per night for the cheapest available 3-star hotel. That figure is significantly higher than in Knightsbridge, the second-most expensive London neighborhood with an average overnight price tag of £157.
Bloomsbury followed in the third spot with an average nightly rate of £132. Meanwhile, London's City center surprisingly ranked only in the middle of the pack. At an average of £111 per night, it came in eighth on the list.
For budget-minded travelers, the least expensive London neighborhoods were Paddington and Earls Court at an average rate of £76 and £67 per night, respectively. Much cheaper rooms still can be found around Heathrow and Gatwick Airports. There, October visitors had to pay only around £50 per night.
Following are London's 10 most expensive districts according to the average rate for their cheapest available double hotel room (minimum: 3-star hotel). The rates shown reflect the month of October 2012.
1. Mayfair £187
2. Knightsbridge £157
3. Bloomsbury £132
4. Soho £129
5. Marleybone £119
6. Canary Wharf £117
7. Southwark £112
8. The City £111
9. Waterloo £102
10. Bayswater £95
For the full results of the survey, visit http://www.cheaplondonhotels.co.uk/neighborhoods-2012.html