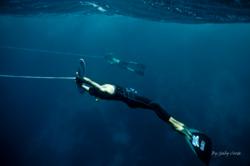 Reef Surfer is completely revolutionizing water sports.
Seattle, WA (PRWEB) November 06, 2012
Underwater Reef Surfer, Inc. (Reef Surfer), developer of the world's first towable, manually operated underwater dive plane welcomes professional wakeboarder, Julian Cohen to the team of elite watersports athletes.
Reef Surfer is honored to add Julian Cohen to the Reef Surfer team. As the latest underwater test pilot, Reef Surfer gives Cohen the experience of flying through the water like never before.
"Reef Surfer is completely revolutionizing water sports. It's a whole new dynamic where you have the ability to control pitch and roll underwater at various speeds and depths. I'm excited to take my skills above the water and apply them beneath the surface." Said Cohen.
Born in California, Julian Cohen moved to Florida at a young age and began wakeboarding shortly after. Cohen was considered a phenomenon and by the age of 14, became the youngest wakeboarder to land a 1080 degree spin in an official cable competition. At 16, Julian suffered a blowout to both knees and doctors believed he would never wakeboard again. However, two years later, Julian beat the odds and returned to wakeboarding, winning contests and turning pro. Currently at age 21, Julian Cohen is the number one cable wakeboarder in the U.S. and ranked fifth in the world.
"Cohen is among the best in wakeboarding, and it's awesome watching him expand his abilities to master underwater flight. As our elite team of watersports athletes is coming together, we couldn't have chosen someone with a better all around attitude than Julian. Its go time!"
Reef Surfer originally introduced the world to Underwater Reef Surfing in 2005 and is the worldwide leader in Reef Surfing equipment sales. Company founders Paul Tosch and Mark Queen are two pioneers of Reef Surfing and are recognized for creating the sport.
About Reef Surfer: The Original Underwater Dive Plane
Reef Surfer is the original Underwater Reef Surfing device and is the leading manufacturer of Reef Surfing water sports equipment worldwide. Reef Surfer is available in two models; The LUNG performance model features balanced performance and dimpled control surfaces for outer wing bite and a perfect surface area for deep control at a wide range of speeds. The EDGE, high performance model features swept wing design for deep underwater cuts, acrobatic roll rates and tighter input responses. Every customized Reef Surfer masterpiece takes shape at the world-class Ronix/Radar facility located at the epicenter of the upper Northwest water sports industry - the ultimate proving grounds for creating the world's finest performance water sports equipment. For more information visit http://www.reefsurfer.com
###
For more information or to schedule an interview with Julian Cohen or Reef Surfer Founders Paul Tosch and Mark Queen, please contact Gregg Witt at (619) 342-6482, or gregg(at)premisemarketing(dot)com.