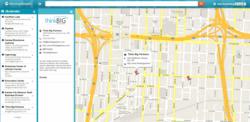 (PRWEB) November 08, 2012
Responding to the call for a one-stop shop for Kansas City entrepreneurs, local entrepreneur Tyler Prochnow has launched StartupShopKC.com. StartupShopKC is a community-riven online map for local entrepreneurs to learn, engage and interact with the growing startup scene in and around the Kansas City metro area.
"For several years now, Kansas City has received national recognition as a hotbed of startup activity, and at the same time, at various conferences, workshops and meetups, I have heard entrepreneurs complain about the difficulty they had in discovering all that our emerging startup scene had to offer," said Prochnow, StartupShop founder and co-founder Think Big Partners. "There are so many great organizations in town that have contributed to that growth, it has become difficult for entrepreneurs to know where to go to get the help they need. The biggest challenge for entrepreneurs is connecting the dots on the resources available."
"It's a good problem to have," said Prochnow. "Having so many essential resources for startups speaks volumes about what is occurring in KC. The power of today's technology and the social community platforms available makes organizing these resources relatively simple."
StartupShopKC.com allows online users to explore a number of different entrepreneur-focused entities that exist in the Kansas City area including events, accelerators, coworking spaces, investors, educational organizations and schools and service providers. The site displays an interactive map of the Kansas City metro region in which users can search for and identify the resources necessary to take their next steps.
The location-oriented online guide not only displays startup resources in an organized list of categories, but also allows users to search, add their own startup information and provide feedback via Twitter. Users are encouraged to add their own events, company information and any other relevant data to the site.
"This is not about one company or one group," said Prochnow. "It's not branded or for the benefit of any one organization. We've populated StartupShopKC with many of Kansas City's more recognizable names, but this works best when the whole startup community contributes. We've put the power to manage the site in the hands of those closest to the needs. Anyone looking to connect or contribute to the entrepreneurial ecosystem can add their information and hopefully find their answers."
To learn more about StartupShopKC or to add your own startup resource to the online map, please visit http://www.startupshopkc.com.
###