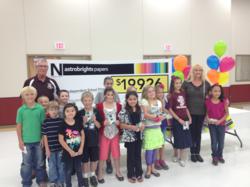 'We will be able to purchase curriculum/technology items for our teachers and students, enabling our students to obtain an even better education for the future,' said Paula Golden, Curriculum Director, Iola ISD.
IOLA, TX (PRWEB) November 06, 2012
Under the Friday night lights at a ceremonial high school football game, the stage was set for a $30,000 total value donation to Iola Elementary School located in the small town of Iola, TX. On November 2, 2012, the Iola Bulldogs charged their way to victory on the field and the town's elementary school went on to win something bright of its own.
Astrobrights® Paper, a brand produced by Neenah Paper, recently hosted the "Give A Brighter Year" sweepstakes on Facebook asking students, families and teachers across North America to submit a K-8 school for a chance to win the donation of bright paper products. By entering their favorite school, Astrobrights fans received a chance to win a $500 Gift Card for themselves and also choose the winning elementary school to receive the donation.
The donation revealed more than Astrobrights' true colors. Lorraine Denman, the fan who submitted Iola Elementary to win the sweepstakes, donated her $500 personal prize to the students. She hosted an Astrobrights arts/craft and essay contest in each homeroom, where children were asked to show how they can help others in society and "pay it forward", with the winning students taking home a piece of the $500 total prize.
"The overwhelming amount of gratitude and appreciation we've been shown over the past few days in Iola has been an uplifting and purely heartwarming experience," said Kristen Hogan, Senior Brand Manager. "The people of Iola - its residents, students, teachers and faculty - have given us more than we could ever give to them, and we're proud to have made the donation to such a gracious community."
Iola Elementary brought the donation to life by parading the gift of paper supplies across the field during halftime of its high school's football game while Neenah Paper presented a check worth over $19,000 and a rural town joined together in a night of celebration.
Astrobrights Paper set out to donate $30,000 in a combination of school supplies and a monetary gift through the "Give a Brighter Year" sweepstakes that took place during August and September. In current economic situations, school districts are quick to cut spending on educational supplies for students, placing pressure on parents to increase spending on essential learning materials. Astrobrights Paper alleviated that pressure for a town currently struck by difficult economic conditions and experiencing significant cutbacks in educational spending.
"Receiving $30,000 in paper products and cash is a tremendous gift to our school. We are so appreciative of the gift, which will assist our school in our budget for the 2012-2013 school year. Due to budget cuts from the state, the paper and cash will give us a boost financially," said Paula Golden, Curriculum Director, Iola ISD. "We will be able to purchase curriculum/technology items for our teachers and students, enabling our students to obtain an even better education for the future."
About ASTROBRIGHTS® Papers
ASTROBRIGHTS® Papers offers a wide assortment of high-quality, affordable paper products that come in 26 vibrant colors, so your bright ideas always get noticed. All bright-colored papers are FSC® Certified and meet the mark of responsible forestry. Astrobrights Papers is available for sale at a variety of leading office and retail outlets nationwide.
Astrobrights is a part of Neenah Paper (NYSE: NP) a leader in premium image and performance-based products including the world-class manufacturer of premium business papers, and is in headquartered Alpharetta, Georgia. For more information on Astrobrights papers visit, http://www.NeenahPaper.com/Astrobrights or http://www.facebook.com/astrobrights. Follow us on Twitter @AstrobrightsFun and check out our pinboards at http://www.pinterest.com/astrobrights.
About Iola Independent School District
Iola Independent School District houses two exceptional campuses of learning at the elementary and high school level. Located outside of College Station in southeastern Texas, 500 students in the district strive for educational excellence in the town of Iola. In 2009, Iola Elementary School was declared a National Blue Ribbon School of Excellence by the United States Department of Education. Iola Elementary has also received a rating of Excellence for the past three years with the Texas Education Agency for the state assessment ratings. For more information on the Bulldogs visit: http://www.iolaisd.net/.