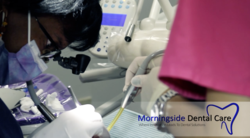 Manhattan NY (PRWEB) November 05, 2012
Dr. Donna Williams, a dentist at Morningside Dental Care is now fully trained on the PerioLase MVP-7 laser and the Laser Assisted New Attachment Procedure. This means that her patients who are suffering from gum disease now have this technologically advanced gum disease treatment. The sooner treatment is started, the better the results, and the less likely patients are to suffer from additional complications related to periodontal disease.
As a dentist, Dr. Williams wants her patients to understand that there are many health problems associated with gum disease. Not only can it damage gum tissue and cause receding gums, but it can also lead to bone degeneration and lost teeth. Other health problems that can be linked to gum disease include heart disease and diabetes. Gum disease treatment is necessary in order to stop the progress of the disease and its side effects.
The LANAP procedure utilizes a laser that was designed to be selective in the things it affects. It eliminates the trapped bacteria and removes diseased gum tissue. At the same time, it helps healthy tissue attach to the surface of the root. In addition, it stimulates the regenerative processes in the bone. During the process, the fiber optic-tipped laser and ultrasonic cleaners are used to remove tartar. Because healthy gum tissue is not affected, the gum line can remain at its current level.
The sooner patients seek gum disease treatment from their dentist, the more options they have for treatment and the more likely that results will be optimal. Dr. Williams is hoping that with the new LANAP procedure, which has little or no discomfort and doesn't require sutures so that quick healing is facilitated, more patients with gum disease will be willing to get the treatment they need in order to improve their health. To learn more about the LANAP protocol for gum disease treatment, please visit http://www.nylasergumsurgery.com.
Morningside Dental Care is a general practice offering patients personalized dental care for New York, New York. Dr. Donna Williams started her dental career at Howard University as a Dental Hygienist. She graduated from Baltimore College Dental Surgery- University of Maryland, the first dental school in the world. Throughout her dental school education she received awards and recognition, including maintaining a 4.0 GPA during her initial year, and an award for outstanding research in the Dental Clinical Science Research competition. She completed a fellowship in Holistic dentistry and is one of very few general dentists who have achieved this accomplishment. Having lived in Africa for a year, she returns on a regular basis to volunteer, providing dental service and education to villagers. Dr. Williams is part of one percent of dental professionals providing the most recent FDA cleared laser procedure for gum disease and periodontal treatment. To learn more about Morningside Dental Care and their dental services visit their website at http://www.nylasergumsurgery.com and call (347) 694-4342.