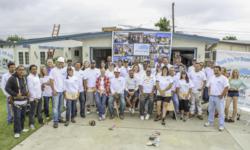 ...I wish I knew each and every one of you by name. But just for you being here with your wonderful smiling faces, I thank God from the bottom of my heart for everything that you have done for me on this day...
-Leroy "Pops" Williams
IRVINE, Calif. (PRWEB) November 06, 2012
On October 20, a group of 50 volunteers cheerfully came together to begin replacing a leaky roof on the aging home of veteran Leroy "Pops" Williams. The collection of Antis Roofing & Waterproofing employees, community partners and neighbors started at 9 a.m. and diligently worked throughout the afternoon to restore the leaking roof, windows and walls of the place Pops had called home for 50 years.
The day was filled with a tremendous amount of work, laughter and fun. There was also an overwhelming sense of gratitude from Pops, who smiled from ear to ear as he expressed appreciation for the volunteers and sponsors who had gathered on his behalf. "I want to thank each and every one of you," he said. "I wish I knew each and every one of you by name. But just for you being here with your wonderful smiling faces, I thank God from the bottom of my heart for everything that you have done for me on this day."
In addition to installing a brand new roof, volunteers completed a touching sidewalk ridge project that left an assortment of endearing messages to commemorate the event. Words such as "I love Pops" and "You Rock," children's hand stencils and tributes to veterans were left behind to serve as perpetual reminders of Pops' value to the community. Community Manager Kara Gonzalez stenciled a sunset on the ridge piece. When asked why she chose that symbol, Kara answered, "When Pops came out of his house he was so happy, and full of energy like the sun." After completing the Pops Build, Kara added, "The creation of messages to Pops made the day special, because it feels like the community spirit we experienced that day will live on." This artistic tribute was the final piece of roofing installed at end of the project.
The volunteers' act of benevolence was highly appropriate for Pops, a former Marine Master Sergeant who has given so much to his country and community. The 78-year-old Pops, who neighbor Linda Mansfield describes as a "sweet and gentle man," has a history of sowing compassionate seeds throughout his community. Whether it was providing transportation for the elderly or running errands or some other good deed, Pops has always been happy to help. Pops is also an ongoing contributor to a number of charitable organizations, including the American Red Cross, Children's Hospital, The Veteran's Association and UNCF.
The volunteer event was made possible by Charles Antis, president of Antis Roofing & Waterproofing and Habitat for Humanity-Orange County. But it was Mansfield who initially got the ball rolling. She had previously gathered friends and neighbors to repair interior damage that rainstorms had caused to Pops' home. When she sought help from Habitat for Humanity—which donated roofing shingles—she was referred to Antis. Charles said "After receiving multiple messages, I called Linda back. She told me of a man that would do anything to benefit his friends and community. After meeting Pops, it was a pleasure to arrange the team of companies and community volunteers to complete the project." Many other organizations, such as D & D Demolition, Speedpro-Irvine, and OC Metals donated materials and services to help Pops keep his home for another 50 years. OC Metals President, Mari Kurtz, added "The Pops build was so awesome! It was great to be a part of so many people coming together to benefit our community."
For more information, please contact Charles Antis at (949) 461-9222 or visit http://www.antisroofing.com.
About Charles Antis/Antis Roofing & Waterproofing
Antis Roofing & Waterproofing Inc. is the leading roofing services contractor for Homeowners Associations within Orange, Los Angeles and San Bernadino Counties. The company, which is owned by President Charles Antis, specializes in moisture intrusion cause identification and installs all types of roofs. Antis is a member of the Orange County Habitat for Humanity Board of Directors, serves on the Community Leadership Training Committee for the Orange County Chapter of Community Associations Institute (CAI), and is a contributing writer for a variety of industry publications. Antis Roofing & Waterproofing is based in Irvine, Calif., where it has been serving homeowners since 1989.
Contact:
Charles Antis, President
(949) 461-9222
Charles(at)antisroofing(dot)com
http://www.antisroofing.com