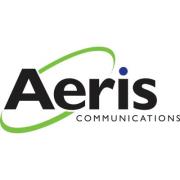 "I was honored to participate in this Summit and to be recognized by Goldman Sachs," said Marc Jones, chairman of the board and CEO of Aeris.
Santa Clara, Calif. (PRWEB) November 06, 2012
Aeris Communications, the only cellular carrier built exclusively for machines, today announced that its CEO, Marc Jones, was recognized as one of the country's Top 100 Entrepreneurs at the Goldman Sachs Builders & Innovators Summit.
"We were honored to have executives like Marc Jones join us as one of the top 100 most innovative entrepreneurs at this inaugural event," said David Solomon, co-head of investment banking at Goldman Sachs. "This gathering was the first of its kind, bringing together emerging entrepreneurs from a diverse set of industries with more seasoned entrepreneurs to discuss how to build great and enduring companies that reshape their industries and make the world better through innovation."
For more than 140 years, through their advice, financing and network, Goldman Sachs helps entrepreneurs fund and grow their businesses. The recently held Builders & Innovators Summit covered a wide array of topics such as talent acquisition, management of younger generations and cultivating corporate culture.
"I was honored to participate in this Summit and to be recognized by Goldman Sachs," said Marc Jones, chairman of the board and CEO of Aeris. "I also realized that behind every successful entrepreneur is a team of dedicated people making a vision a reality. I am particularly proud of our team at Aeris and I accepted this award and recognition on their behalf as well. Our team is revolutionizing the machine-to-machine (M2M) industry and I'm excited to be a part of such a talented group."
Jones spent more than two decades building entrepreneurial companies. Under his direction, Aeris became a leader and pioneer, shaping and driving industry innovation and standards in M2M communications.
About Aeris Communications
Aeris Communications is the only North American cellular carrier designed and built from the ground up exclusively for machines. This enables Aeris Communications to deliver the unique reliability, flexibility, control, and efficiencies that machines demand. From telematics to medical devices to remote machines, Aeris' customers enjoy solutions optimized for high performance and mission-critical reliability.
Aeris Communications is more than just a network provider. We encourage our customers to use machine-to-machine technology in unique and innovative ways. We make it our mission to understand our customers' present and future goals in order to deliver intelligent, M2M solutions. For more information about Aeris Communications, please visit http://www.aeris.com or follow us on Twitter: @AerisM2M
For more information about Goldman Sachs and their financial services, visit the company's website at http://www.goldmansachs.com.