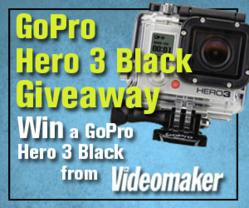 CHICO, CA (PRWEB) November 07, 2012
Videomaker magazine is holding a contest to give away a free GoPro Hero 3 camera to one lucky winner.
Videomaker always strives to help videographers and filmmakers create better videos with top notch tips and training. Today, America's premiere video production website is going the extra step to help one lucky winner get the best tools available today for video production. Videomaker is giving away one free GoPro Hero 3: Black Edition camera.
The HERO3: Black Edition is the most advanced GoPro, described by GoPro to be 30% smaller, 25% lighter and twice as powerful as any previous model. The camera is waterproof to 60m, can shoot ultra-wide 4k 12fps,1440p 48fps, 1080p 60 fps and 720p 120 fps video and 12MP photos at a rate of 30 photos per second. It has built-in Wi-Fi, GoPro App compatibility and included Wi-Fi remote.
This is the third recent sweepstakes from Videomaker, which has a long history online and in print of helping new and working video creators find and understand the technology that they need to make better video. In September, Videomaker gave away an HP Elitebook laptop to one lucky winner; in October, it gave away an iPhone 5. Additional sweepstakes are planned for the future.
To enter this contest, click this link and fill out the entry form. There's no entry fee or membership requirement. One lucky winner will find themselves the proud owner of this top-of-the-line camera absolutely free.
To learn more, visit the Videomaker Laptop Giveaway on Videomaker's Sweepstakes Page: http://promoshq.wildfireapp.com/website/6/contests/300778
ABOUT VIDEOMAKER
Founded in 1986, Videomaker was the first magazine to introduce video to a mass, non-industry audience. Though the video field has exploded dramatically in recent years, Videomaker still remains dedicated to its core mission: To encourage aspiring directors and documentarians to use video technology to find their own voices and tell their own stories. Today, Videomaker is more than just a magazine. It's grown to also become a robust online community, offering a full line of training DVDs, videos-on-demand and a series of webinars and hands-on video training workshops. Every month, nearly one million professional videographers, independent filmmakers, and home video hobbyists turn to Videomaker to get the latest video scoops.
To learn more, visit the Videomaker GoPro Hero 3 Black Edition on Videomaker's Sweepstakes Page: http://promoshq.wildfireapp.com/website/6/contests/300778