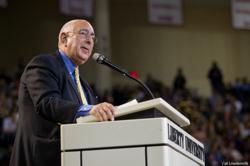 Lynchburg, Va. (PRWEB) November 05, 2012
Ben Stein returned to Liberty University Monday, speaking in Convocation about the moral crisis that faces America.
Though this was his first time speaking to a Convocation crowd, Stein has visited Liberty several times in the past few years, including in May 2009 when he delivered the Commencement address and February 2010 when he held a Q-and-A with a group of students at Liberty Mountain Snowflex Centre.
Stein is a personal friend of Chancellor Jerry Falwell, Jr. and his wife, Becki.
During his visit, Stein said several times he loves being at Liberty.
"(The students) here are well-disciplined, respectful, and it's a school explicitly founded on belief in God."
Stein is a prominent economist, columnist, and lawyer, but is also well known for his acting as the monotone professor in "Ferris Beuller's Day Off" and the feature face in Clear Eyes commercials.
Falwell showed a short clip from the movie, provoking much laughter from the students.
Stein drew on his background as a political speechwriter and as one well-informed in the political arena and current events to discuss various moral issues facing America. In light of the presidential election on Tuesday, he traced history, comparing events today with when he was born in 1944.
He expounded on six moral issues that he sees as problems facing the nation: the national debt, work ethic, pornography, collapse of the family system, collapse of the quality of education, and abortion.
The solution to these issues is "fairly simple," he said: "behaving decently toward our fellow human beings as God commands us to do."
"It all comes down to doing a certain kind of work — work to make a better world and work to be better friends, neighbors, family members, and children. And to follow God's Word and honor God and love one another."
Liberty University, located in Lynchburg, Va., is the world's largest Christian university. Nearly 100,000 students attend classes on its 6,800-acre residential campus and study in its thriving online education program.