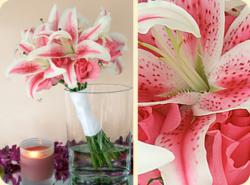 Freshest Flowers Guaranteed on the Big Island of Hawaii says Maui'd Forever
Kamuela, HI (PRWEB) November 07, 2012
Maui'd Forever is one of Hawaii's few full service, all-Hawaiian Islands wedding planner and coordinator. Founded in 2003 by entrepreneur Mark Steffan, the company operates on the Hawaiian Islands of Oahu, Maui, Kauai and the Big Island of Hawaii. They use over 150 different wedding vendors and still find the need to add additional members to their team.
All Hawaii weddings feature flowers. Especially something unique to a Hawaiian wedding and that is the lei exchange between bride and groom. Usually done at the beginning of the ceremony the minister hands a lei to the groom to present to his bride with a hug and kiss. The bride then does the same for the groom. If there are guests often they are presented leis after the bride and groom do their exchange.
They are happy to announce their newest member on the Island of Hawaii, Ainahua Florals. They are a farm that is located in the beautiful town of Waimea. They provide farm fresh flowers and leis to customers on the Big Island of Hawaii. They are located in the lush town of Kamuela servicing Kohala, Hawi, Honokaa, Waikoloa and the Kohala Coast. Breathtaking, panoramic views of the lush mountain ranges to the glistening Pacific Ocean make a wonderful backdrop for Ainahua Florals company in Kamuela
They believe in supporting local agriculture and have a great working relationship with local farmers around the island. Hand-picking flowers directly from the farm they are able to provide people with high quality, fresh cut, tropical and spring type flowers. They tell us the flower types that are available year round locally in a variety of colors are Anthuriums, Heliconia, Orchids, Lilies, Spray Roses and Sunflowers.
Ainahua Florals is one of the last existing Protea farms on the Big Island. They house over 30 varieties of Protea including leucodendrons, pincushions, banksias and kings with some plants that are 20 years old! Their blooming season starts in August and continues thru June.
Ainahua Flowers are available with all the wedding packages Maui'd Forever offers. Please check with them to see if your favorite flowers are available for your Hawaii Wedding, vow renewal or civil union.