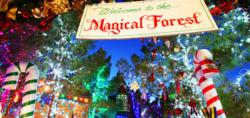 Las Vegas, NV (PRWEB) November 07, 2012
Discount Retail Store Services spent their weekend decorating a tree for a great charity. Magical Forest is a literal forest with hundreds of trees. The area is decorated with Holiday lights a gingerbread house and it is visited by elves and Santa, with a carousel and mini-golf, and other festive and fun sights and entertainment. It's all for a good cause, to raise money for the intellectually disabled and to ensure that everyone has a wonderful Holiday Season. Opportunity Village helps the intellectually challenged secure employment with the help of local Las Vegas businesses. It is almost completely self-funded, is Nevada's largest private non-profit community rehabilitation program, and has been named "Las Vegas' Best Community Organization."
As with years past, Discount Retail Store Services participated next to a long list of other local Las Vegas businesses and individuals.
Individuals and businesses can still get involved with the Magical Forest at Opportunity Village. Those who are interested in volunteering or learning about how to make a donation are encouraged to call (702) 880-4081 or to visit the Opportunity Village website, http://www.opportunityvillage.org/. Along with volunteering and donating, there are nightly events held during "Magical Forest Season," from November 21 through January 6 opened Sunday through Thursday from 5:30 pm to 9:00 pm and Friday and Saturday from 5:30 pm to 10:00 pm. General admission will be $9.00 for children and $11.00 for adults (13 and over) and a "Passport" which includes entry and unlimited rides is $15.50 for children 3-12 years old, and $17.50 for those 13 and older.
Discount Retail Store Services is an independent business development company that offers turn-key business start-up and ongoing support without the franchise fees within their six proven business models including Dollar Stores, Clothing Stores, Mail Box Stores, Teen Stores, Party Stores, and Fitness Centers. Upcoming news about DRSS can be found on their Facebook Page.