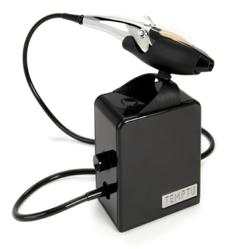 Now it is easier than ever to get flawless and gorgeous fast with TEMPTU AIRbrush makeup.
New York (PRWEB) November 06, 2012
TEMPTU, the worldwide leader in high-performance airbrush makeup technology, now puts the power of the pro in your hands with the new and improved TEMPTU AIRbrush Makeup System 2.0. Now it is easier than ever to get flawless and gorgeous fast.
TEMPTU brought High Definition airbrush cosmetics to consumers everywhere, and now TEMPTU continues to perfect women's everyday beauty routines with the TEMPTU AIRbrush Makeup System 2.0, with more versatility, precision, and gorgeous airbrush results than ever before.
The TEMPTU AIRbrush Makeup System 2.0 features:

Revolutionary, patented airbrush makeup technology that made TEMPTU famous.
New & Improved Air Compressor with stronger air flow and seamless, continuous pressure that provides the most flawless application of foundation
New & Improved AIRbrush Gun with a weighted handle and enhanced trigger control for more precision application when applying highlighter and blush
New and Improved AIRpodTM technology, that includes an open-and-close valve system that allows for easier flow-through application
New price, the system starting at an affordable $185
The Temptu AIRbrush Makeup System and AIRpodTM Collection is the only easy-to-use, at-home airbrush makeup system that utilizes a disposable pod system. Now consumers can achieve professional quality, airbrush makeup results without the complexity and training needed to operate a professional airbrush makeup system. The airbrush makeup formulas are encapsulated in pre-arranged makeup pods that contain foundation, blush and highlighter colors individually that you just pop on and pop off to change color. Each Temptu AIR Pod contains 3 months of makeup and enables the user to achieve the equivalent of 4 brushes in one for applications ranging from foundation to blush and beyond. The TEMPTU AIRpod Collection includes 12 foundation colors, 10 blush colors, and 6 highlighter colors as well as tanning and bronzing AIRpods.
The TEMPTU AIRbrush Makeup System 2.0 is available November 1, 2012 at amazon.com, qvc.com and temptu.com, and at exclusive retailers including Fred Segal.
About Temptu, Inc.
Temptu is the leading authority in airbrush makeup, advanced beauty technologies, makeup applications and formulas. Founded in 1981, the TEMPTU PRO division is a destination for makeup professionals and is available in 50 countries and territories around the world through specialty retailers. The TEMPTU consumer division, created in 2009, is a destination for individuals seeking professional quality cosmetics for everyday use. TEMPTU products have been seen on the stars of film and television, including Gossip Girl, Desperate Housewives, and Mad Men, and used behind the scenes in fashion for Christian Dior, Herve Leger, Reem Acra, and Italian Vogue, W and Harper's Bazaar. For more information, visit http://www.temptu.com and http://www.temptu.com/pro,