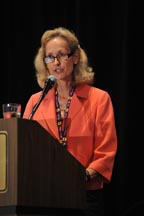 RBMA is pleased to be a part of the Associated Sciences Consortium and have the opportunity to offer education from a business perspective.
Fairfax, Va (PRWEB) November 08, 2012
The Associated Sciences Consortium is an RSNA working group representing 13 professional societies, including the Radiology Business Management Association (RBMA), in radiologic sciences, technology and administration. Each year the Consortium sponsors a symposium of refresher courses to take place during RSNA.
This year RBMA will co-sponsor two 90-minute courses for the 2012 meeting; one which will compare and contrast the psychographic and demographic characteristics of two generations and identify the implications of the changing face of healthcare as the swell of Baby Boomers transition into their senior years; and one that will discuss how regulatory and legislative policies will impact radiologists and radiology practices in 2013.
The first RBMA-co-sponsored session will take place on Tuesday, Nov. 27, 2012, 3:30-5 p.m., with Implications of the Changing Face of Healthcare: Aging and the Shift of Population with speakers David R. Gruen, MD., and Robert M. Kulis. Claudia A. Murray will be co-moderating with Cindy Comeau, BS, RT.
The second session will be held Wednesday, Nov. 28, 2012, at 10:30 a.m.-noon, when Thomas Greeson, JD; Barbara Rubel, MBA, FRBMA; and Melody Mulaik, PCS, FCS, CPC, CPC-H, RCC present Reimbursement Realities. Claudia A. Murray will be moderating.
In addition, RBMA will have a display of available resources in the Associated Sciences aisle in Lakeside Hall #204D. Stop by between the hours of 11 a.m.-1.p.m. and meet RBMA leadership and staff. .
The Radiology Business Management Association (RBMA) is a not-for-profit professional organization serving individuals whose primary business involves radiology. Established in 1968, RBMA serves as a trusted community that connects members nationwide, provides valuable information and education, and develops and offers practice-related resources for nearly 2,400 members.