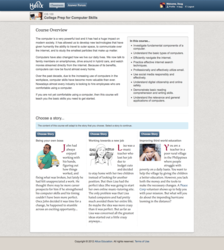 Denver, CO (PRWEB) November 06, 2012
This week, November 6th through the 9th, leaders from Altius Education will join their fellow Next Generation Learning Challenges (NGLC) Wave IIIb grantees to share their model for supporting college readiness and completion at the EDUCAUSE annual conference. As part of the NGLC Alley in booth 1261, Altius will be demonstrating the Helix online learning platform and inviting members of the education community to sign up for a free beta course.
The course, entitled CIS 100 College Prep for Computer Skills is an introduction to the basic computer skills students need to do well in an online college program. The class features Helix's unique "storytelling" approach to online learning, in which students choose a narrative that aligns with their interests to experience the course through.
"Helix combines innovations from different areas of education technology including adaptive learning and complex analytics," said Paul Freedman, Founder and CEO of Altius Education. "But one of the aspects that differentiates the platform from others is its use of personalization through storytelling. This allows Helix to add relevance to a course's subject matter that improves the retention of information."
Led by EDUCAUSE and funded by the Bill and Melinda Gates Foundation and The William and Flora Hewlett Foundation, NGLC is a collaborative initiative created to tap the potential of technology to dramatically improve college readiness and completion. As one of the Wave IIIb grantees, Altius Education will be giving a short presentation at the NGLC Alley at 1:00 p.m. on Wednesday November 7, outlining its unique model for higher education powered by the technology in Helix.
"I'm excited to meet with the other grantees and the rest of the EDUCAUSE community," said Freedman. "The EDUCAUSE conference has always been a great event to meet and collaborate with other educators and I'm happy to share what Altius has been working on with this creative group of people."
To review the Helix platform and sign up for the free CIS 100: College Prep for Computer Skills course visit http://helix.altiused.com/player or stop NGLC booth 1261 at 1:00 p.m. on Wednesday to meet with the Altius team.
To learn more about Altius Education, Helix, or the company's unique model for higher education visit visit http://www.altiused.com or contact Megan Murray at megan.murray(at)altiused(dot)com or 415-655-8320.
###
About Altius Education
Altius Education is creating a new model for US higher education focused on student success. The company's joint venture approach brings together the best of non-profit and for-profit institutions, creating a student-centric university ecosystem that guides students of all ages and backgrounds to positive outcomes. The foundation of this unique system is Ivy Bridge College, created in partnership with Tiffin University. Ivy Bridge is America's transfer college, providing a direct path and support services for students to pursue an associate degree online, then transfer to one of over 100 public and private four-year partner institutions across the United States. Headquartered in San Francisco, with operations in Ohio, Altius is funded by Maveron, Spark Capital and Charles River Ventures.