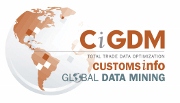 We've developed a better way for trade professionals to manage item compliance,
Eden, UT (PRWEB) November 05, 2012
Sister companies CUSTOMS Info and Global Data Mining LLC (CiGDM) are making available a webinar on cloud-based tools that lower costs and increase efficiency of work related to customs classification and enterprise-wide item compliance management.
When: Available Immediately
Where: Online. Register: https://www1.gotomeeting.com/register/527567241
Who: Matt Gersper, president and founder, Global Data Mining and co-owner of Customs Info
What: CiGDM specializes in Item Compliance™ and workflow applications that dramatically improve productivity and significantly bolster management's oversight capacity. This state-of-the-art system helps customs compliance professionals work smarter, and create results faster, in every business unit throughout the world.
AGENDA
1. What it does.
2. What it consists of.
3. What it costs.
4. How to get approval.
"We've developed a better way for trade professionals to manage item compliance," said Matt Gersper, president and founder of Global Data Mining and co-owner of CUSTOMS Info. "Our clients easily create and maintain up-to-date information accurately describing every product from a customs perspective, automatically programmed to deliver the right data, to the right systems anywhere in the world, at just the right time."
Supporting Resources:

About CiGDM
CUSTOMS Info (Ci) and its sister company Global Data Mining (GDM) help businesses optimize global trade management (GTM) systems and streamline global trade automation.
Ci provides the world's most comprehensive trade data repository delivered via web-based subscription, API web services or as data to populate any GTM or Landed Cost application. Ci is the largest provider of duty and tax content for international e-commerce with hundreds of e-commerce sites utilizing our data to provide accurate landed cost information. Our data and services provide faster deliveries and fewer border delays.
GDM helps multi-national companies increase the informational value of trade data and the productivity of global trade staff to reduce operating costs, improve customs compliance, accelerate supply chain speed and maximize the return on investment of this corporate function.
Our specialized strategy focuses on five areas of trade data optimization. Customs Info offers regulatory data formatted for lightning fast on-line research (#1) or formatted for computer automation (#2). GDM specializes in item compliance management (#3), customs audit compliance (#4), and business intelligence that identifies and quantifies financial opportunities and risks (#5).
Working in conjunction with GTM applications, Global Data Mining and CUSTOMS Info's strategic partners include SAP, Oracle, and other trade software partners. Please visit http://www.customsinfo.com , http://www.gdmllc.com for more information.