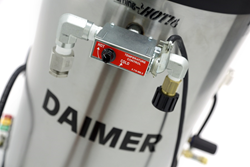 Daimer® is pleased to offer the world's largest line of all electric pressure washer machines that can assist meat processors in preventing food recalls and sickness.
Woburn, MA (PRWEB) November 06, 2012
Daimer Industries, Inc.®, the world's leader in advanced professional pressure washer machines, including gas pressure washer systems and hot water pressure washer equipment, is now shipping its Vapor-Flo® 8410 that is capable of preventing harmful bacteria, such as Escherichia or E.Coli, generally found in many meat packing plants. The electric pressure washer features just the right temperature and pressure options to help food processors clean more effectively than most current methods.
"Food-borne bacteria can develop due to improper cleaning within food facilities. Powerful and effective pressure washer machines are required to help meat plants prevent this very harmful bacteria," states Matthew Baratta, spokesman of Daimer Industries, Inc.®. "Daimer® is pleased to offer the world's largest line of all electric powered pressure washer machines that can assist meat processors in preventing food recalls and sickness. We believe Daimer® offers the cleaning solutions the food industry needs to implement now."
The Vapor-Flo® 8410 hot water pressure washer from Daimer®, which offers both a high pressure level of up to 1880 psi and flow rate of up to 0.6 gpm, offers outstanding cleaning power for professionals working in the food processing and manufacturing industry. Disinfection takes place at a little over 170°F, and the Vapor-Flo® 8410 commercial pressure washer emits temperatures as high as 205°F. Most bacteria cannot survive when exposed to such high pressure levels and temperatures, and the company's system can help clean much more powerfully than a water hose emitting cold water.
E.Coli lives within the intestines of cattle, goats, sheep, and pigs. People infected with the bacteria can even develop a complication called hemolytic-uremic syndrome that causes kidney failure. In the United States alone, about 75,000 people a year are hospitalized because of HUS.
As per the statistics released by the U.S. CDC (Center for Disease Control), every year in the United States nearly 76 million cases of food-borne illness arise, resulting in 325,000 hospitalizations and 5,000 deaths. Out of the total, nearly one-third of the 5,000 deaths are related to meat and poultry.
Unfortunately, during the cleaning process butchers perspire, etc. as they kill, mixing their excreta with the processed carcasses that are often dragged across dirty floors to trucks. The meat is then taken to meat stores and shops across the country. Moreover, 90% of the animals transported in trucks have already had their limbs broken and are in an advanced stage of septicemia before they are butchered.
The Vapor-Flo® 8410 is available in 220-240 volt, three phase, 60 Hz. power and is a portable model that can be transported around a facility. The pressure washer also comes standard with upstream siphon chemical injection for the blending of most chemicals with water.
The commercial pressure washer machine's housing is powder-coated steel and resists rust and stains. The system is ideal for commercial and industrial cleaning applications.
For Additional Information:
To learn more about the Vapor-Flo® 8410, visit the company's website or contact Matthew Baratta at (888) 507-2220. The machines can be exported to most countries worldwide.
About Daimer Industries, Inc.®:
Daimer Industries, Inc.® is the global supplier of highly advanced cleaning machines, such as gas pressure washer systems, floor cleaners, carpet steamers, vapor steamers, and hundreds of other products and models incorporating patented technologies.